8th Wall
Blog
Real World Minecraft adventure provides an immersive in-store experience for Big W customers
A unique Web AR retail experience featuring Minecraft characters and fun prizes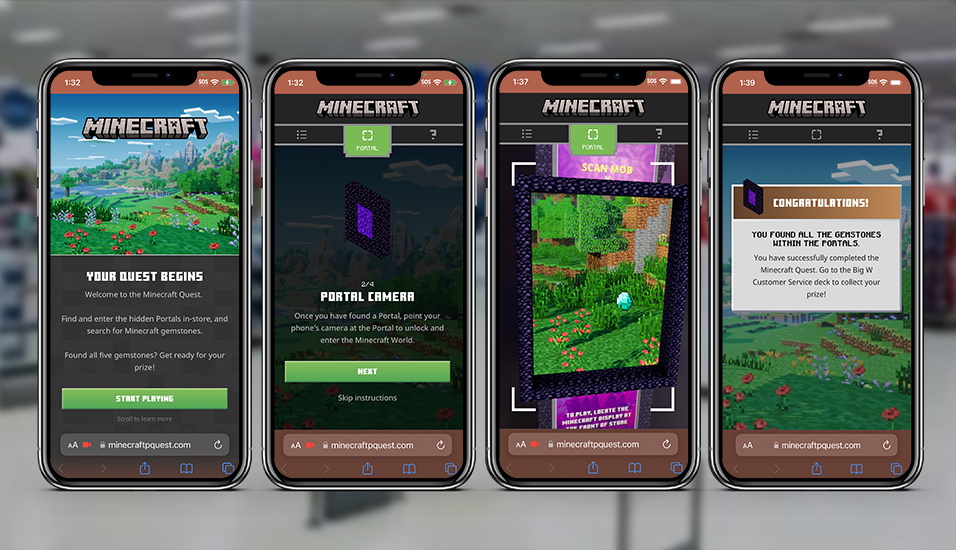 Microsoft and Intergalactic Agency, in partnership with the Big W stores across Australia, gave fans the chance to experience a real-world Minecraft adventure with the launch of a web-based augmented reality scavenger hunt called "Minecraft Quest."
In this immersive WebAR experience, players use their smartphones to access Minecraft Quest on their mobile browser, and start hunting for Minecraft characters located on point-of-sales signages throughout the Big W stores. Once players find a character and scan it with their smartphones, it triggers a portal connected to the world of Minecraft, where they search for a hidden gem. After players collect all five special gems, they receive a special Minecraft prize pack from the customer service desk. The promotion ran from Jan. 5th to Feb. 2nd, 2023, and became a very popular experience, with the game being played over 12,500 times in that period.
The concept was created and developed by digital agency Intergalactic, with licensing agency Merchantwise Group as their in-store partner. This experience uses 8th Wall's Image Target technology to trigger the WebAR game. Building on the success of its Minecraft Scavenger Hunt AR experience launched in 2021, this experience saw over 5000 shoppers complete the challenge and an increase in SKU sales by 250%. Minecraft Quest demonstrates how leveraging cutting-edge WebAR technology to create innovative retail experiences can add tremendous value to brands.