8th Wall
Blog
Sky Effects + World Tracking: Everything is now a canvas for AR
For the first time, 8th Wall Developers can augment the sky and ground together in the same AR experiences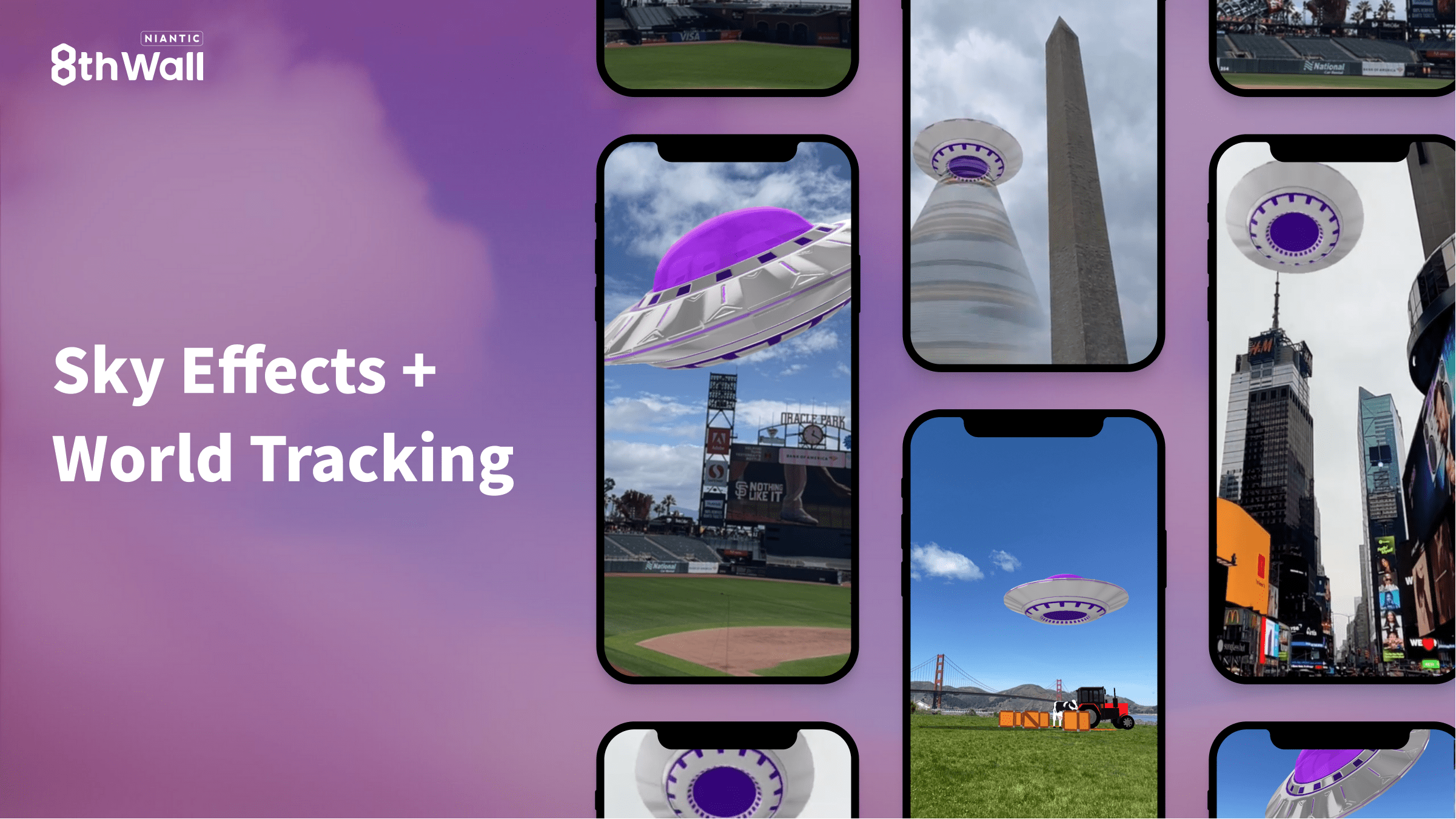 Today, we're excited to announce that developers, agencies, and brands can now simultaneously use Sky Effects + World Tracking to create never-before-seen immersive WebAR experiences. For the first time for any AR platform, you can now augment the sky and ground together in the same project.

Augmented Reality has the potential to transform everyday views into extraordinary moments by giving developers the power to tell stories with the world as their canvas. Using these two features together, developers no longer have to choose between creating something in the sky or on a surface. The entire field of view is now available for them to overlay their creations and unleash their creativity.
Augment the sky and surfaces with two powerful AR tools
World Tracking, built on 8th Wall's industry-leading SLAM engine for the browser, allows developers to create highly accurate and precise WebAR experiences that seamlessly integrate with a viewer's surroundings.

Sky Effects brings Niantic's powerful segmentation technology to the browser, making it possible to identify and segment the sky. In turn, the sky becomes a canvas for placing AR content or augmenting it entirely.

With Sky Effects + World Tracking working seamlessly together, developers can create otherworldly experiences with full environmental changes to the sky and ground. This groundbreaking combination expands the possibilities of what can be created in AR, allowing developers to push the boundaries of their creativity and deliver unforgettable experiences to their audiences.

To perfect each experience, we're also introducing new tools that allow you to customize and optimize the design of your WebAR experiences. For instance, the edge feathering tools released with Sky Effects let you refine the look and feel of your Sky Effects + World Tracking experience by fine-tuning the harsh borders between layers and adjusting the intensity of the feathering to fit your needs. For those building in A-Frame, we've also added a component to make it easier for objects to transition from the sky layer to the ground (SLAM) layer, allowing developers to build experiences where content falls from the sky to the ground or lifts off from the ground into the sky.
Move 3D object from the sky to the ground, foreground to background, and more
Using Sky Effects + World Tracking together gives AR experiences a new layer of context, perspective, and movement as AR elements move between the Sky Effects and World Tracking layers.

The sky is typically an essential backdrop for any media. In film, the color of the sky dictates the mood of a scene or can establish a location. For example, a darker sky is foreboding, while a bright sky is happy. Different moons or planets in the sky convince an audience that a story occurs in another world. This context sets the stage and is key to building immersive AR.

Using these tools simultaneously allows developers to design more engaging AR experiences by having content move between the Sky layer and World layer. Create an experience that uses the entire world with AR elements that start from the ground and fly up to the sky, or ones that begin in the sky and settle down on the surface in front of you, move between the background and foreground, or combine multiple movements to create a more immersive scene.





Create first-to-market AR experiences that use the entire world



This type of movement allows developers, brands, and agencies to unlock an entirely new layer of creativity for those looking to create their own unique and first-to-market experiences.
For example, an agency promoting an upcoming alien invasion film could create a WebAR experience that overlays the entire field of view with a realistic, otherworldly sky and ground. Using the movement and perspective of Sky Effects + World Tracking, viewers can watch as a massive UFO descends from the sky and see that a laser beam is pulling in animals and objects just beyond the horizon. As the experience continues, the UFO could descend from the sky and land on the ground before them. The agency could then use World Tracking to enhance the scene by exploring the aftermaths of the invasion, with cars overturned and debris scattered everywhere, or add interactive elements like seeing alien creatures exit the UFO and explore the world around them.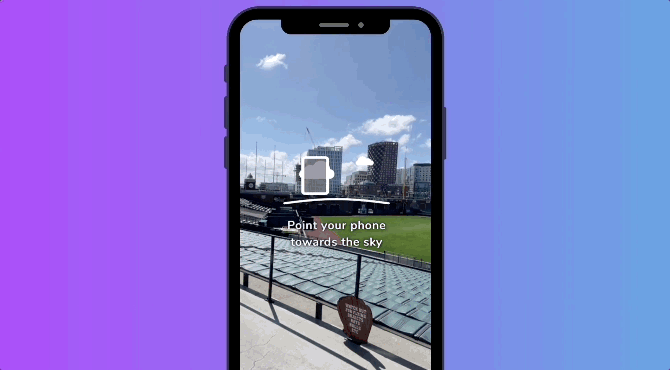 But Sky Effects + World Tracking isn't just for movie promotions. Sports teams and event organizers can use these features to create more engaging and immersive fan experiences. For example, fans could hold up their phones after a strike-out to see their favorite player standing on the pitcher's mound with a halo of flames surrounding him. Suddenly, the player leaps into the sky and takes off like a rocket, leaving behind a trail of fire that expands across the entire stadium. As users follow the player with their phone, they notice that the sky is also transforming, with stars and galaxies appearing in a stunning display. And because the experience uses the entire field of view, it's not affected by crowds or obstructions, ensuring that every fan gets the same experience.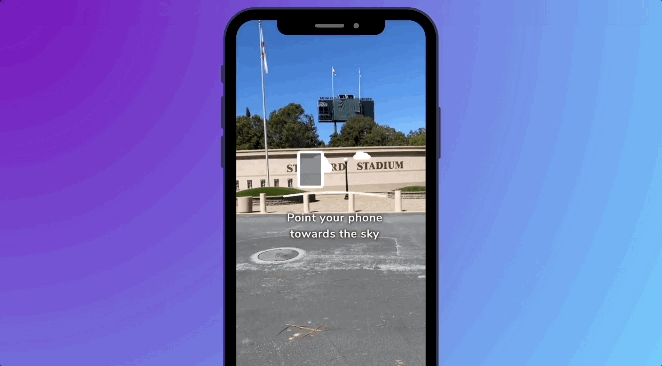 And finally, a musician like Taylor Swift could use Sky Effects + World Tracking to create a truly magical concert experience during her current tour. With sky and ground as her AR canvas, Taylor could transform the stadium into a fantastical world that only Taylor could create. As she sings hit songs like "All Too Well," red scarves could fall from the sky and land on the stage, or during "Reputation," different versions of Taylor could appear on stage while the sky behind her changes color. With Sky Effects + World Tracking, the experience would feel like a natural extension of the real world rather than a separate and disconnected overlay.
Start building with Sky Effects + World Tracking in multiple 3D frameworks
At Niantic 8th Wall, we're committed to creating first-to-market features that push the boundaries of AR, enabling you to use different AR capabilities simultaneously, and giving you the tools to create unforgettable experiences.

By combining the power of World Tracking's precise SLAM engine with the ability to customize and augment the sky using Sky Effects, you can now create immersive AR experiences that transport audiences to entirely new worlds. And with new tools like edge feathering, you have more control than ever over the look and feel of your AR experiences.
Ready to start building out-of-this-world AR experiences? Start by cloning the Sky Effects + World Tracking sample projects in our project library for A-Frame, three.js, or PlayCanvas. If you're new to 8th Wall, sign up for a 14-day free trial to use Sky Effects + World Tracking in your next project.
We can't wait to see the out-of-this-world experiences you create!