8th Wall
Blog
Announcing all new tools for building multiplayer WebAR experiences
8th Wall developers now have the power to build engaging, social WebAR experiences with new Shared AR module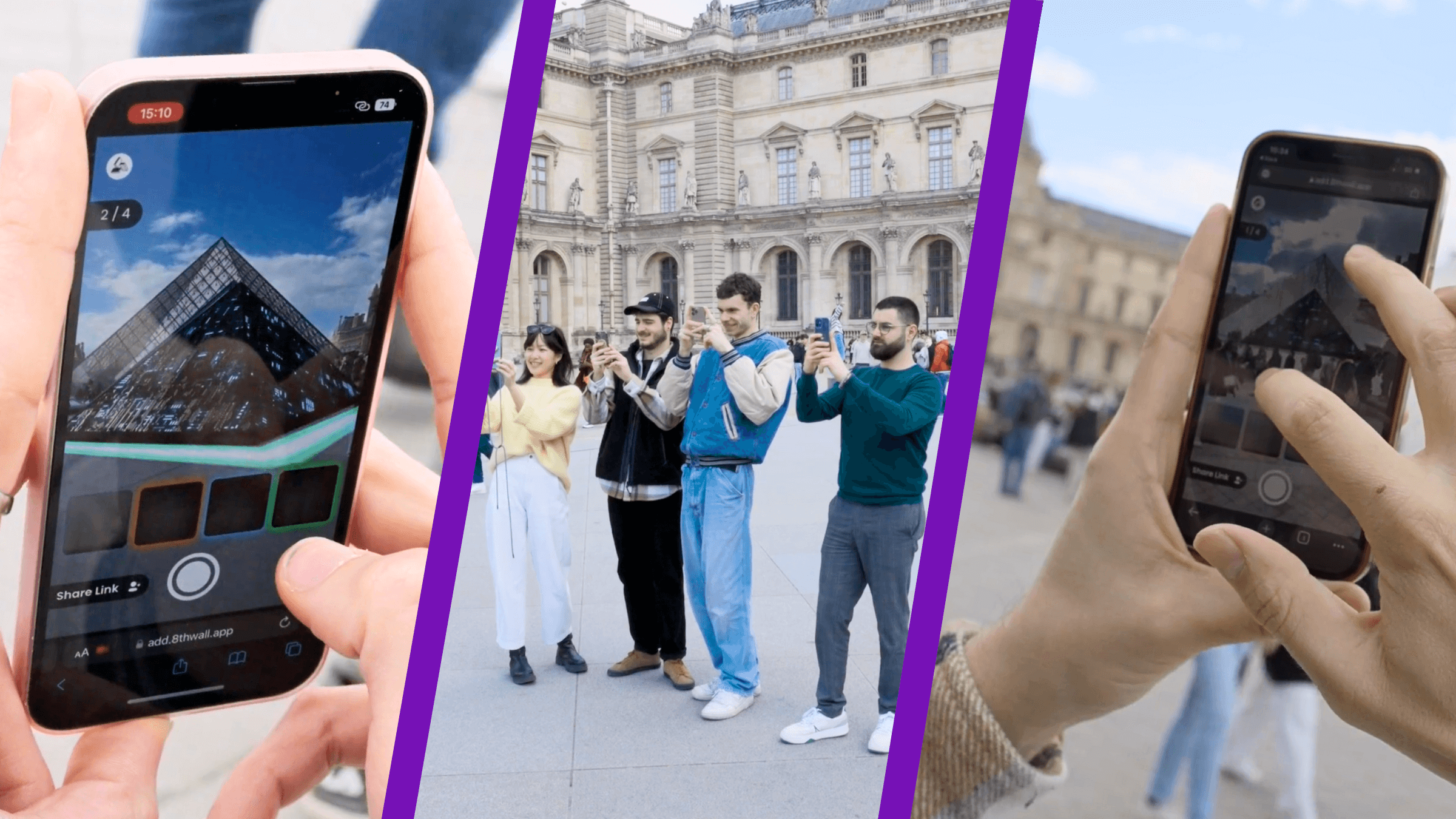 Highlights:
All-in-one solution for building multiplayer WebAR experiences without the infrastructure challenges

Support for hundreds of concurrents users with up to 32 users per session

Enables building synchronous and asynchronous multiplayer WebAR experiences

Ready to use and customizable Lobby Pages

Hot Pot Hop sample project combining multiplayer and World Tracking
As the use of WebAR continues to grow, it's clear that the future of WebAR and AR in general lies in creating interactive, shared experiences that draw audiences in.

At Niantic, we want to give our 8th Wall developers the tools to create these engaging and memorable experiences by taking care of the challenging and time-consuming infrastructure that often gets in the way. That's why we're bringing the same Shared AR tools used to power some of Niantic's most memorable games to 8th Wall, starting with the tools for synchronous and asynchronous multiplayer experiences.
Create social and immersive AR experiences for hundreds of concurrent users that extend dwell time

AR is better with friends. Shared AR creates a sense of community and engagement that solo AR and WebAR experiences simply cannot achieve. The new Shared AR module offers the tools to create games, campaigns, and more that support up to 32 users per room in multiple rooms simultaneously, allowing brands, developers, and agencies to create WebAR scenarios that can handle hundreds of concurrent users.


Shared AR also has the potential to create longer and more memorable WebAR experiences. With support for both real-time interactions and remote turn-based play, developers have the tools needed to keep audiences coming back again and again. This all-in-one solution also gives developers, brands, and agencies the tools to create viral AR moments that end-users will be eager to invite friends and family to join the fun. With cross-device support, audiences can invite others to join them from whatever device they are on, whether it's mobile, desktop, or headset.


Focus on the creative with an all-in-one solution that tackles the boring infrastructure

The universal accessibility of WebAR experiences is both a strength and a challenge for creating multiplayer solutions. While WebAR makes it possible to reach a wide range of users, it also demands developers spend precious hours to create a Shared AR experience that works seamlessly across a wide range of devices and operating systems.

This challenge is precisely what our multiplayer tools in our Shared AR module are here to solve. Our all-in-one solution builds on the same technology Niantic uses to create engaging multiplayer games and packages these tools for 8th Wall developers. We've taken the infrastructure and optimization challenges tested over years of development and packaged it into one solution to allow WebAR developers to do what they do best - create one-of-a-kind immersive experiences audiences are craving.

The Shared AR module uses a Shared AR library as an adapter for Networked A-Frame (NAF) so that networking works out of the box. It also offers solutions for persisting data across the life of a room, allowing for critical experiences like state of the game, player health, player score, and more to ensure that any new player who joins a room has all the context they need to jump right into an experience.

Multiplayer is one of the first of many tools that will be offered in our Shared AR module which is available in our Cloud Editor. Developers can simply add the module to their projects to jumpstart the development process.


Accelerate development with pre-built customizable lobby pages and new sample projects

To make it even easier for developers, brands, and agencies to create long-form, shared WebAR experiences, this release also features ready-to-use Lobby Pages that can be customized to fit any experience. Lobby Pages are pre-built solutions for connecting players before or during a session, enabling player invite flows, and for allowing players to share links without spending hours of critical development time.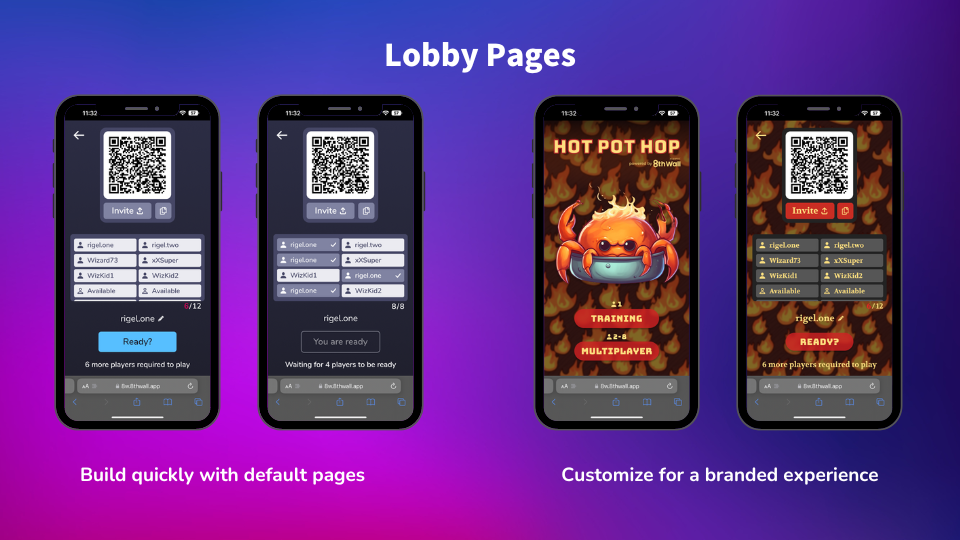 Lobby Pages can be used as is or easily customized to create a complete branded experience. By default, Lobby Pages make use of the information or assets available in a developer's 8th Wall project but developers can take complete control and adjust the video assets, colors, buttons, and dozens of parameters to design a look and feel that is entirely unique.

Start building multiplayer experiences with the new Shared AR module

Shared AR for the browser is essential for the future of Web AR, giving developers the tools to create social, engaging, and viral experiences. Whether you're developing a synchronous experience or an asynchronous turn-based experience, 8th Wall's new Shared AR module will simplify the entire process.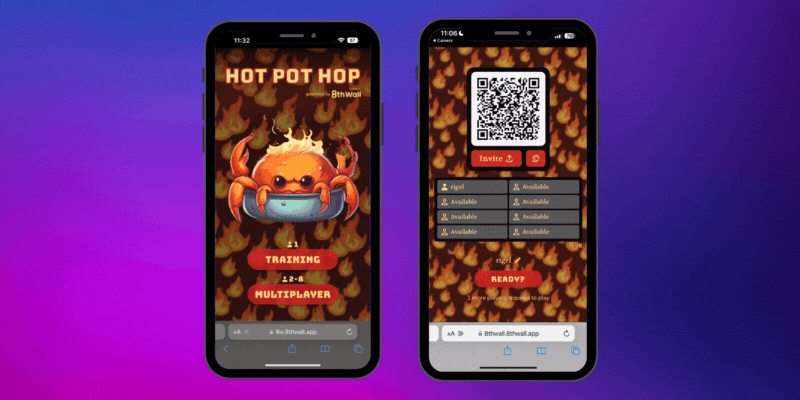 To get started, head to the project library to clone the Hot Pot Hop project to start tailoring these experiences to your projects. If you're new to 8th Wall, sign up for a 14-day free trial to use Shared AR for your next Web AR experience.