8th Wall
Blog
Premier League launches interactive trophy hunt to celebrate first Premier League Summer Series
Fans hunt for 20 different trophies in cities across the US using augmented reality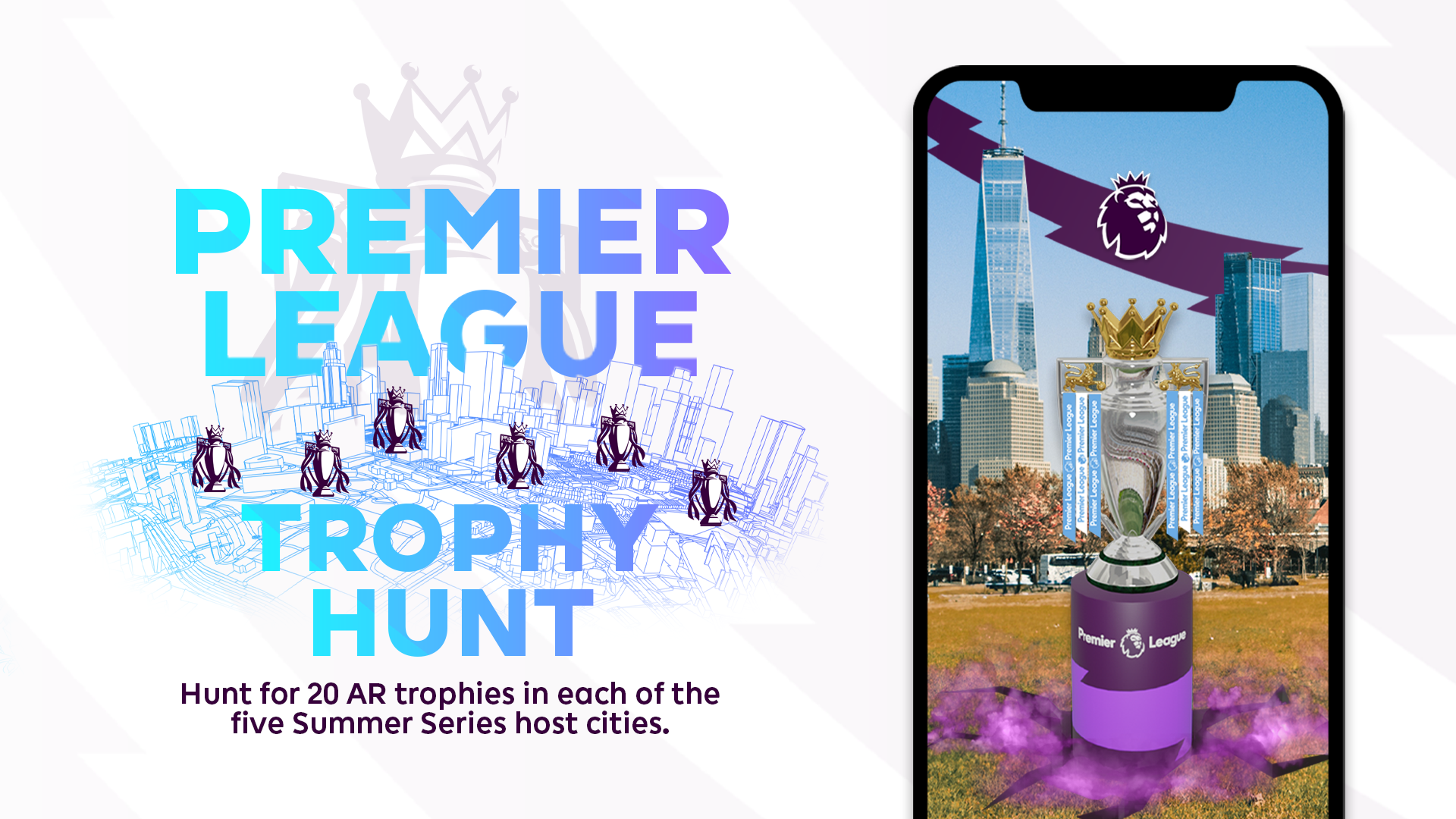 With six clubs competing in the first-ever Premier League Summer Series, the Premier League has launched an augmented reality experience that allows fans to hunt for 20 different trophies hidden in the five Summer Series cities.
For fans located in D.C./Maryland, Philadelphia, Orlando, New Jersey / New York, and Atlanta, they can activate this webAR experience using their smartphones to locate the various trophies, one for each Premier League club, hidden around the cities. Once the trophy has been discovered, it will emerge from the ground and allow users to digitally view each trophy's characteristics. Every unique trophy discovered will allow users to enter to win tickets to the Summer Series match in their home city, and for those who find all 20, they are entered to win a signed Premier League jersey.
For those who are not located in one of the cities mentioned above, users can activate this augmented reality experience at home to show support for their favorite club, see the Premier League trophies in augmented reality, pose with the face filter, and share on social media. They are also given the chance to enter to win Premier League merchandise.
Created by ROSE, Doppelgänger, and the Premier League, this webAR experience allows fans to support their favorite clubs in the Premier League and immerse themselves in an interactive trophy hunt with fans from all over the United States. If you are a resident of one of the Summer Series Cities, the hunt is on until July 20th.
Learn more about the Premier League Trophy Hunt here.
Try out the experience for yourself here.
NO PURCHASE OR PAYMENT NECESSARY TO ENTER OR WIN. See full Official Rules for all details, including, but not limited to, eligibility restrictions, entry periods, how to enter, prizes, and odds, at trophyhunt.premierleague.com/rules Sponsor: Football Association Premier League Limited.