8th Wall
Blog
Unleash an all-new era of WebAR with Generative AI technology and 8th Wall
Developers can now combine 8th Wall with Inworld AI and OpenAI to create personalized, engaging WebAR experiences
Highlights:
New Generative AI developer tools to streamline development

Inworld AI Integration Module: Add AI-driven characters that adapt, learn, and genuinely engage.

8th Wall Integration Module for OpenAI: Create WebAR experiences powered by OpenAI's DALL·E API and ChatGPT API

Two new sample projects for creating experiences built on Inworld and OpenAI

The power of Generative AI (GenAI) combined with the immersive reality of 8th Wall's WebAR is an undeniable match. This dynamic duo offers developers, brands, and agencies a groundbreaking way to tap into seemingly limitless creative resources and give audiences control of the experience, ensuring they're captivated like never before.

In the last few months, we've seen 8th Wall developers create incredible experiences by combining various GenAI technologies and 8th Wall. 8th Wall's extensible platform allows developers to integrate with GenAI tools to accelerate development and build one-of-a-kind WebAR experiences. This technology includes DALL·E and Stable Diffusion to add text-to-image input, Blockade Labs to add 360-degree images to the Sky, Inworld AI to incorporate human-like interactive characters, Hugging Face and ControlNet to add texture to the face, or Move.ai and Wonder Dynamics to add realistic movement.

Now, to make it even easier for developers of all skill levels to build WebAR experiences with GenAI, we're introducing the first-ever GenAI Modules and sample projects for Inworld and OpenAI. These new Modules remove the development overheads that typically stand in the way of adding this powerful technology to their WebAR experiences, providing developers with a hassle-free way to bring GenAI into WebAR experiences. Developers only need to add the Module to their project to let the magic unfold.

By combining WebAR with GenAI, developers are no longer creating single-use content. Instead, GenAI and WebAR combine to create dynamic, evolving experiences that respond to end-user interaction, keeping users engaged and wanting more.


Bring characters to life with Inworld's Character Engine for engaging interactions with characters for games, training, brand ambassadors, and more

Inworld AI is a powerful Character Engine for creating interactive and lifelike AI-driven characters. These NPCs, brand ambassadors, and AI agents can learn and adapt, navigate relationships with emotional intelligence, have memory and recall, and autonomously initiate goals, perform actions, and follow their own motivations. It's no longer just automatic and flat chatbot responses; it's genuine personality.

In response to WebAR's compatibility with their Character Engine, Inworld collaborated with the 8th Wall team to create their Inworld AI Integration Module and Rainbow Crunchies sample project. The Inworld AI Integration Module allows developers to easily combine Inworld's lifelike characters with 8th Wall's tools to offer new interactive experiences. For example, developers can combine Inworld with Image Targets or World Effects to create an experience where audiences see familiar characters leap off packaging and initiate a natural conversation. With Inworld's Character Brain, characters can mimic the entire range of human expression including non-verbal cues such as voice inflection and intonation, facial expressions, and body language. No two conversations are the same, and Inworld's Contextual Mesh ensures characters' responses stay in-world and in-context.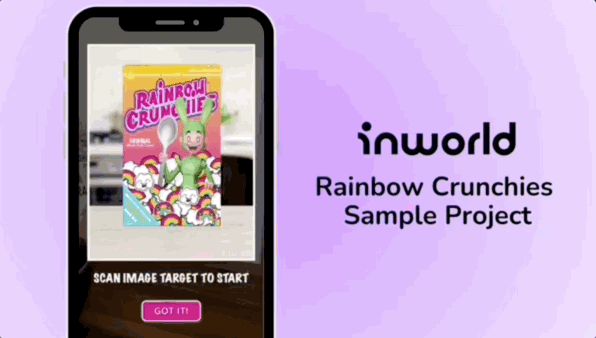 By adding the new Inworld Integration Module, developers can incorporate these powerful, lifelike characters in their 8th Wall experiences without the complexities of server provisioning or token authentication work. Once added to a project, the Module takes care of the tedious backend work, meaning developers only have to enter their API key to get started. Using the Rainbow Crunchies sample project, developers can build their first Inworld and 8th Wall experience, which uses Image Targets to initiate a vibrant brand encounter with the fictitious brand mascot, Rainbow Ray.



As the future of mixed reality takes shape, AI-powered characters like those powered by Inworld will be a crucial component of building virtual worlds, providing users with endless possibilities for interaction across digital spaces. With these easy-to-use developer tools, connecting Inworld's Character Engine with 8th Wall's Metaversal Deployment is now more accessible than ever, ensuring that these impressive characters are not limited to a single device. Instead, developers can build once and deploy everywhere, enabling a consistent AR experience across smartphones, computers, tablets, VR HMDS, and mixed-reality devices.
Develop with new 8th Wall Integration Module for OpenAI for dynamic text and image generation
As part of this release, we're also introducing a new developer tools created by 8th Wall that harness the power of OpenAI's DALL·E and ChatGPT for image generation and AI-powered text chat.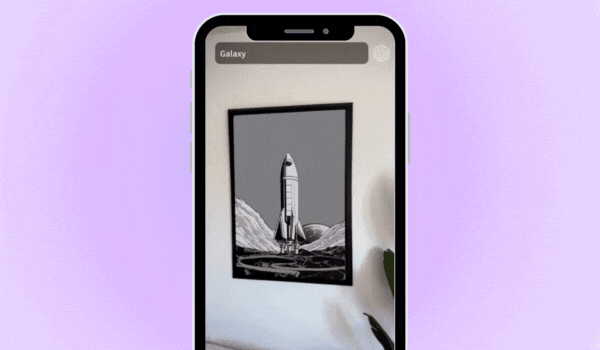 On its own, OpenAI's DALL·E is a powerful GenAI model that creates highly detailed and creative images based on text-based prompts from a user. When DALL·E is combined with WebAR, developers can use these text-to-image prompts to create experiences that put creativity in the control of the users. Users can then enter unique prompts that generate images to augment the sky, conform to faces, reimagine real-world objects, or even as new textures within the WebAR experience.
Similarly, ChatGPT enables developers to create personalized and interactive WebAR experiences by understanding and responding to user inputs in real-time. Developers can use this type of interaction to develop text-based conversations with a WebAR character, collaborate with ChatGPT to place objects in a scene, or even create experiences that combine DALL·E and ChatGPT to make real-time changes.
Like the Inworld AI Integration Module, the new 8th Wall Integration Module for OpenAI saves development time by managing the server setup and token management. The Module sets up a project code to call DALL·E and ChatGPT and handles the developers' secret key and proxying for a secure and seamless cloud-based connection. Once developers add the Module to their 8th Wall project, all they need to do is copy over their OpenAI API key, and they're ready to start building.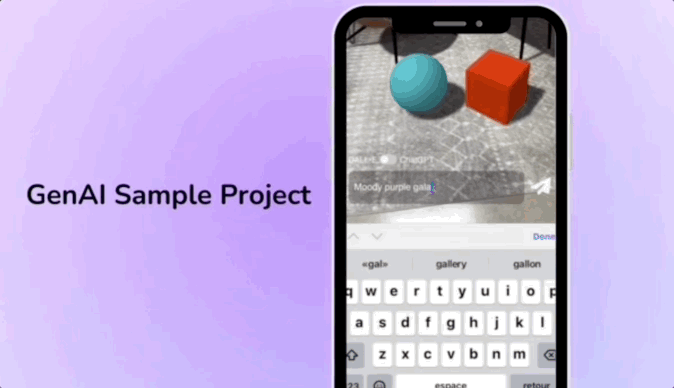 Using our GenAI Sample Project powered by OpenAI developers can see how easily incorporating these technologies into WebAR experiences is. In the project, developers will discover how to use DALL·E to generate a 3D texture via text and apply it to a virtual object in real time. Additionally, developers can customize the ChatGPT prompt box to give users another way to control the elements of the experience.
8th Wall's own Ian Curtis inspired this sample project based on his work using text-to-image GenAI tools to quickly generate and texture WebAR worlds. Instead of just making a simple 2D image, Ian leverages GenAI images to create textures for 3D models or unique interactive WebAR experiences like his recent combination of AI-generated QR codes and WebAR.
"What excites me most about integrating Generative AI into Augmented Reality is that it empowers every user to become an architect of their digital world. They're no longer passively consuming content but actively creating it, shaping their experiences with the power of their imagination."
— Ian Curtis, XR Developer, 8th Wall
Elevate your WebAR experiences with GenAI Modules

The potential of GenAI to transform WebAR is undeniable, and now, with these new developer tools, accessing that potential has never been easier. Developers can now merge GenAI seamlessly with many of 8th Wall's most impactful features, including but not limited to Image Targets, Face Effects, World Effects, Sky Effects, Lightship VPS, and Shared AR tools.

To get started, check out the Inworld AI Rainbow Crunchies sample project and the GenAI sample project powered by OpenAI to understand the power of GenAI and WebAR combined.

Ready to build your own GenAI experiences? Import the Inworld AI Integration Module or 8th Wall's Integration Module for OpenAI into your 8th Wall project to quickly access and build on top of these incredible technologies.

If you're new to 8th Wall, access a free 14-day trial to build with the power of GenAI and 8th Wall in your next experience.

P.S. - Are you a GenAI tool interested in creating your own 8th Wall Module? Connect with our team.

Looking for help promoting GenAI and 8th Wall to your clients for your next project? Access this pitch deck and recipe cards as a starting point.