8th Wall
Blog
Meet the Winners of the Shared AR x Ingress Challenge!
Our Shared AR x Ingress Challenge gave developers an opportunity to learn, develop, and connect with each other and 8th Wall team members, all while developing shared multiplayer experiences with Ingress assets.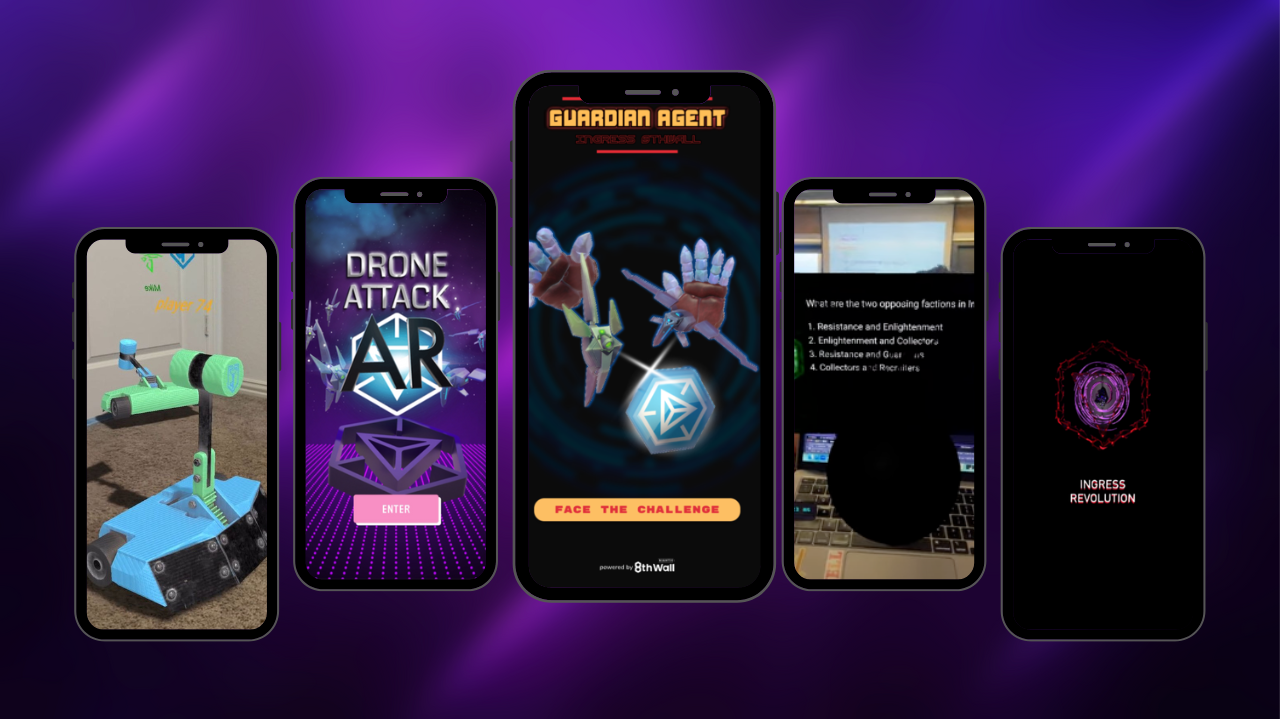 In August, we launched an exciting collaboration challenge with Ingress challenging developers to create immersive multiplayer Shared AR experiences! This challenge helped developers learn how to build with Shared AR, foster connections with fellow developers and the 8th Wall team, and compete for prizes worth over $10,000.
To ensure participants were set-up for success, we organized a series of events including an information session with 8th Wall Product Manager, Ria Bhatia and Ingress' Director, Brian Rose to kickstart the challenge. Developers then had 1:1 project consultation calls in order to help ideation and solidify plans for their experiences. We held a Cre8te workshop for participants to get started with a sample Shared AR experience with Daniel Casadevall Pino, in addition to a 8Talks session with Powster's team who brought ARcade to life at AWE 2023. Lastly, participants were able to schedule one-on-one meetings with our Developer Support Engineers to help remove any roadblocks and help developers submit their projects on time.
We were so impressed with the multiplayer experiences our 8th Wall developers created and are excited to announce the winners!
Grand Prize Winner
We had such a great pool of submissions, but there could only be one Grand Prize Winner. The Shared AR Grand Prize goes to "Guardian Agent" by Camilo Medina. This experience was inspired by the Ingress mission of two factions fighting over control for Exotic Matter (XM). Camilo added an additional element including a secret user disrupting both the Enlightened and Resistance factions to control the XM themselves.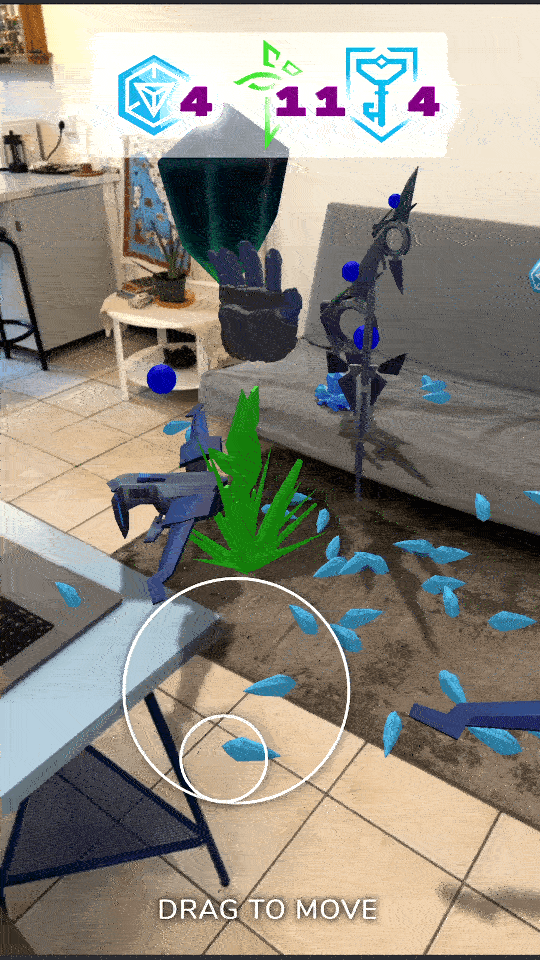 This multiplayer experience stands as a groundbreaking multi-platform multiplayer WebAR game, fueled by the advancements of 8thWall and its Metaversal Deployment, complemented by the innovative Shared-AR module. Players can join via their mobile, desktop or VR devices to team up or take on the role of Guardian and disrupt the other players.
Most Original Prize (x3)
For the most original prize, we had three awards given out following the call sign for Ingress' van 1 3 3 1!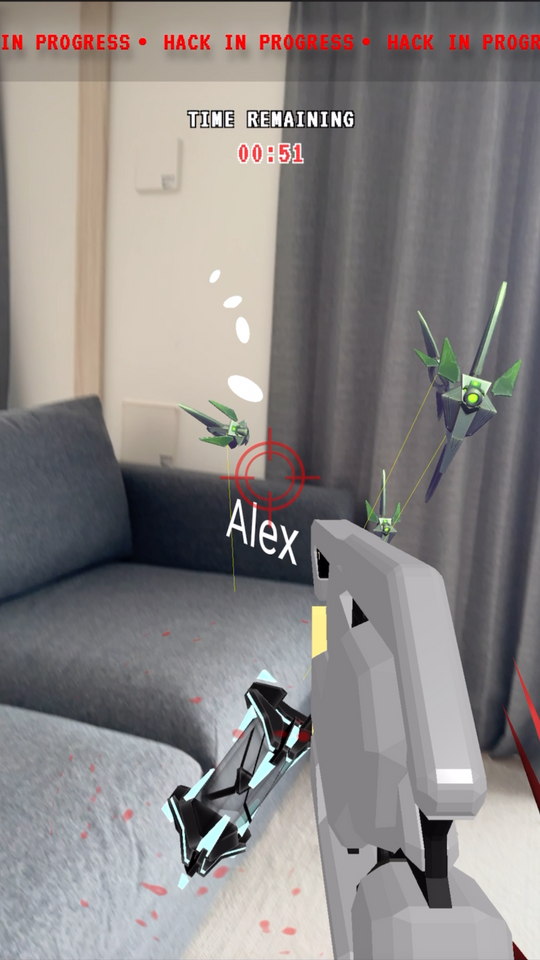 "Drone Attack AR" built by Alex Di Guida is an amazing experience inspired by the tower defense gameplay already in Ingress and amplifying it to be more action packed!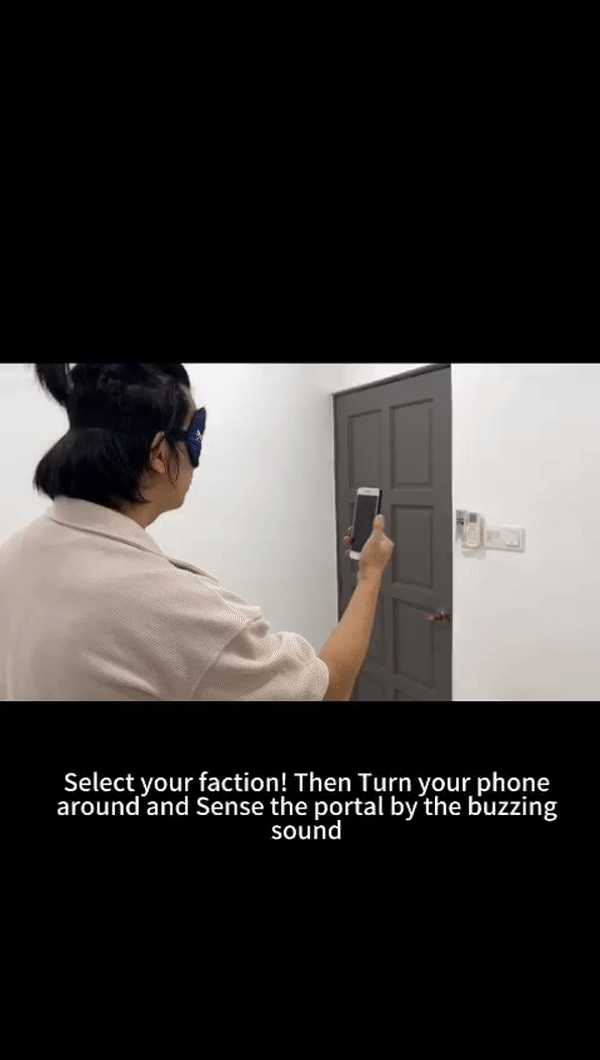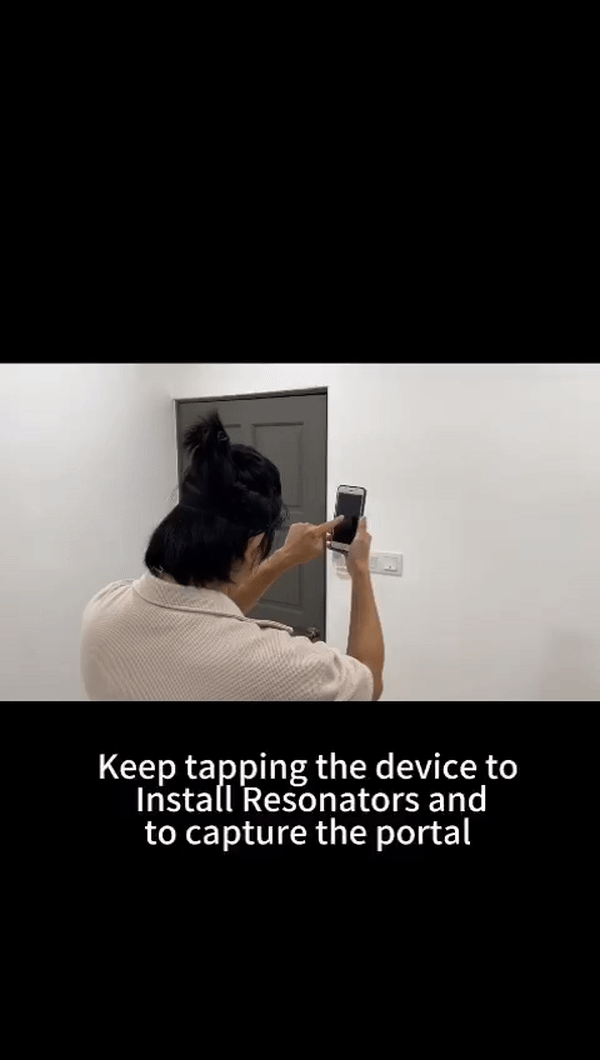 Next up, we have "Ingress Prime - Cibersence Operative" by Jensen Lim challenging players to use all of their senses in order to find XM portals. This game was inspired by making Ingress a playable experience for people who are visually impaired.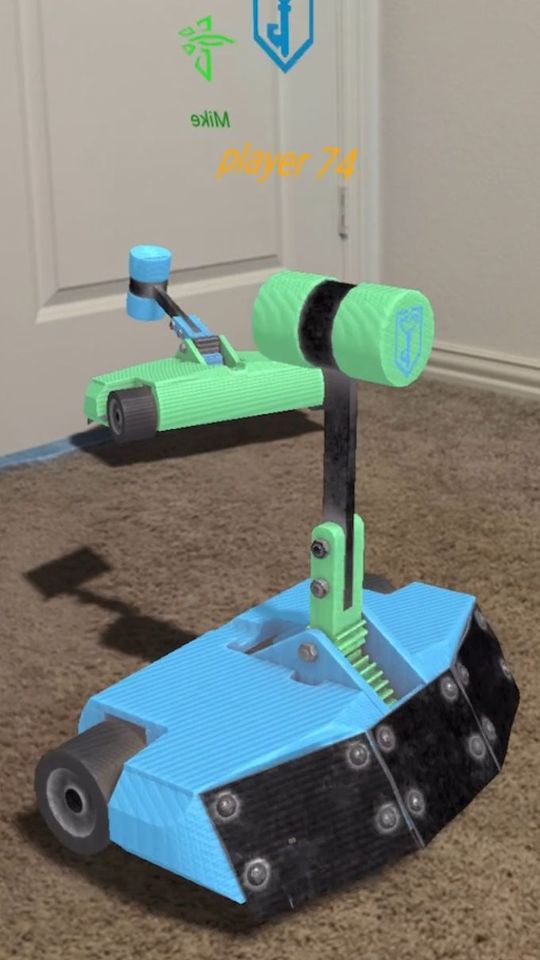 And last but not least, "Bot Bash" by Alex Bradt brings the world of picking factions and battle bots into one. Bot Bash is an adrenaline-pumping web AR game that pits you against a friend in a battle of robotic supremacy.
Ingress Mission Prize (x3)
The next three winners did a great job of keeping Ingress' mission and gameplay in mind.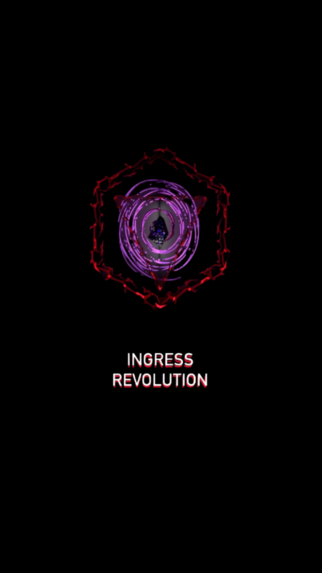 First up, "Ingress Revolution" by Libardo Martinez Durango and Diego Aguirre challenges players to take down portals before they completely absorb your world as you know it! The team with the most hits on the portal wins.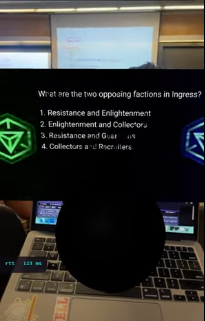 Next, it was time to test your knowledge of Ingress with "Ingress IQ - Shared AR Trivia Experience" by Yanni Kouloumbis and Nour Gajial!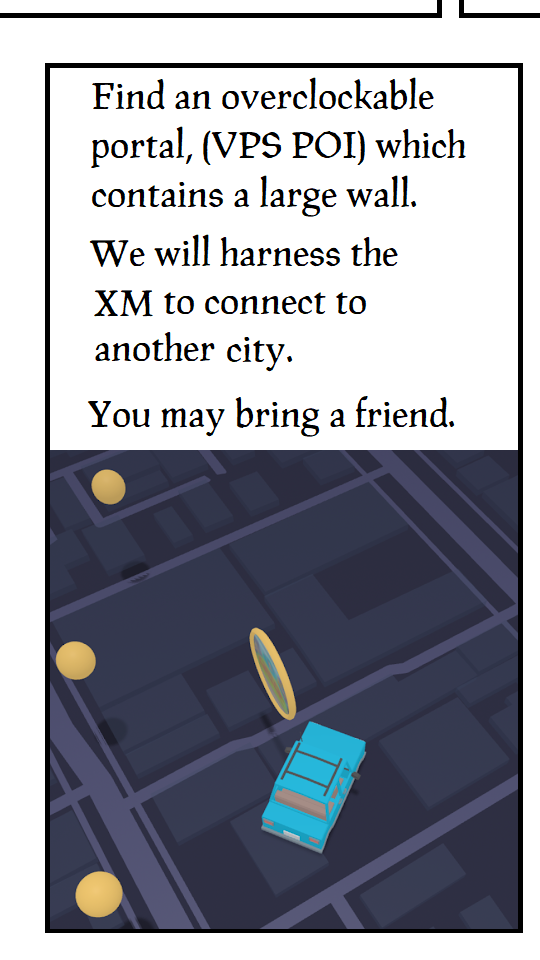 Lastly, check out "Project Dreamer" by Ryan Leach meant to connect worldwide players through the XM network with guided meditation.
Community Favorite
Voted by the community, "Connect 4", by Prashasti Kapadia brings the classic tabletop game to an AR experience to play with your friends. This experience keeps track of scores between the two factions of Ingress at any given Wayspot meaning that players must continue to win in order to claim that location for their faction!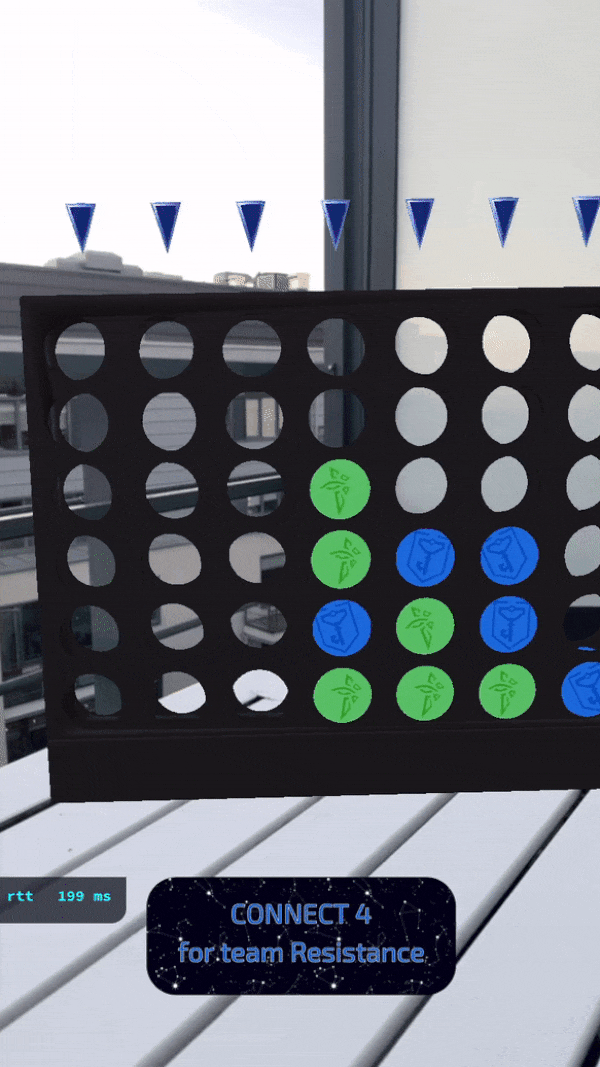 Thank you to all of the 8th Wall Community Developers who submitted an experience and participated in the challenge events throughout the past month! Check out the submission gallery to review all the entries!