8th Wall
Blog
Holograms are here: Announcing our end-to-end WebAR hologram solution
New Hologram Template and Asset Bundle Upload Feature Makes Cloud Editor the Best Solution to Create WebAR Projects with Holograms from Microsoft Mixed Reality Capture Studios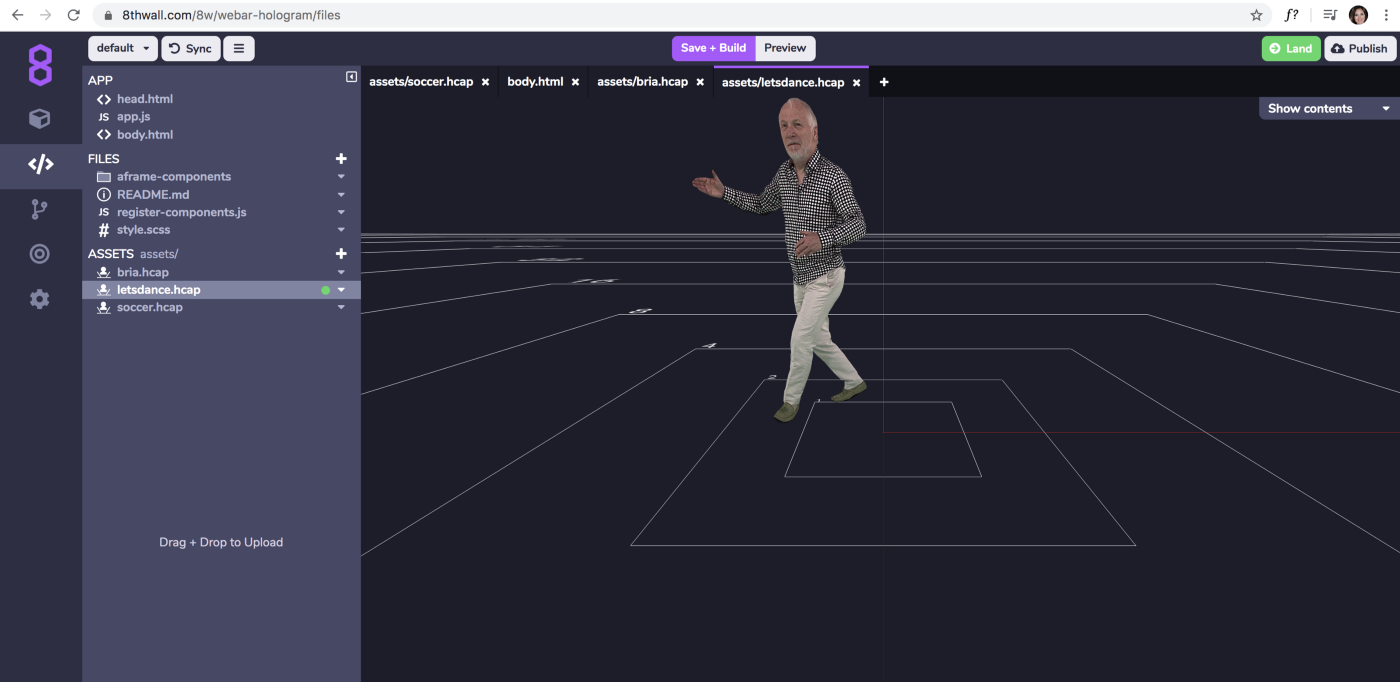 Holograms are in high demand as brands and organizations turn to volumetric captures of actors, celebrities and spokespeople to entertain, educate, train, and sell to customers. When combined with WebAR, these holograms become free to be wherever the user is, including their home.
Back in October, we launched our integration with Microsoft Mixed Reality Capture Studios (MRCS) to support streaming of its volumetric video in augmented reality on the web. Combining Microsoft's high-resolution, low-latency volumetric videos with 8th Wall's scalable and frictionless WebAR platform has unlocked a massive market opportunity for holograms. Since this launch, the 8th Wall platform has been used by brands, agencies and even musicians to create WebAR hologram activations that bring a lifelike human experience directly to users.

We gained some valuable feedback in supporting many of the early developers in their hologram project development. This insight was used to implement some powerful changes to our platform to improve the end-to-end development of MRCS hologram WebAR experiences.

Today, we are debuting our official MRCS Hologram project template and a new Cloud Editor feature enabling asset bundle uploads which makes it possible to add MRCS volumetric video (HCAP) files to your project. The release of these new tools makes the 8th Wall Cloud Editor the best platform to create and publish WebAR MRCS hologram content.
The A-Frame MRCS Project Template kick starts your hologram project development by using the latest versions of Microsoft's HCAP player and 8th Wall's SLAM engine hyper-optimized for the browser to provide world tracking. It also includes everything you need to set the hologram's initial scale, enable gestures for manipulation and movement and easily modify looping, muting, control playback, and display messages based on HCAP playback states.
The new asset bundle feature lets developers drag and drop .ZIP files or complete directories into their Cloud Editor projects. The addition of this feature is critical to supporting MRCS HCAP assets. Developers can now drag and drop HCAP asset bundles into a Cloud Editor project, preview the hologram once it has uploaded and then add it to their project.
When ready, the hologram WebAR project can be published instantly to a password-protected staging environment or live to the world — hosted right at the edge, where your users are, with low latency via 197 points of presence globally.
While MRCS hologram projects benefit greatly from asset bundles, this new feature can also be used to upload files with any file extension, including glTF, and brings support for files that rely on referencing relative path files. It also allows developers to serve files as assets which can improve build and load times.

You can check out the new asset bundle feature by logging into the Cloud Editor and clicking the "+" arrow beside "Assets" in any Cloud Editor project. Or, read more about it in our Documentation.
To get started with a hologram project, head on over to the Project Library to clone the MRCS Hologram project or select it as a project template in the Cloud Editor. MRCS Hologram projects will require you to have a volumetric video file (HCAP) from Microsoft Mixed Reality Capture Studios (MRCS) or MRCS partners Metastage and Dimension Studio.
We can't wait to see what you create!
* * *
🙌 A big thank you to our developer community for consistently providing us with helpful insights and feedback on our software. We're continuing to develop and iterate based on the valuable feedback that you provide us. You can join our developer community on Slack here.