8th Wall
Blog
New York City Celebrates Pride with WebAR Experience at Birthplace of Gay Civil Rights Movement
Users can take photos with a virtual heritage sign and vibrant particle rainbow to celebrate Pride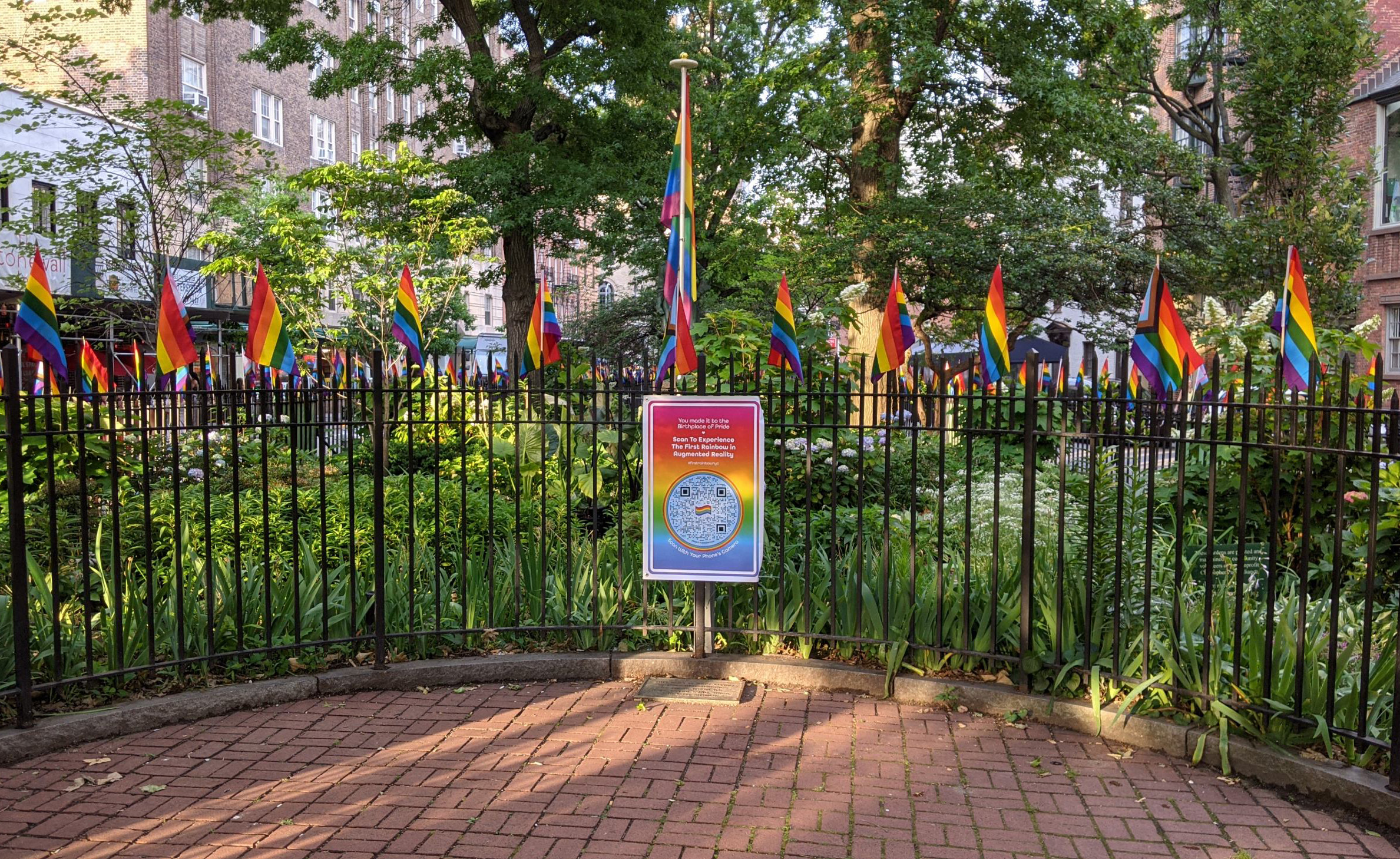 Due to the pandemic, cities across the country have been forced to put their Pride Month celebrations on hold. Still wanting to celebrate this special month, Christopher Park in New York City created The First Rainbow, an interactive web-based augmented reality experience that celebrates its history as the birthplace of the Gay Civil Rights Movement.
Since the historic 1969 uprising, Christopher Park has been at the center of the LGBT rights movement. To celebrate this, Christopher Park has placed beautifully designed posters throughout their property that allows visitors to activate the AR experience using a Flowcode QR code.
Using their smartphones, visitors of the park scan the QR code to access the WebAR experience in their mobile browser. They then place a virtual heritage sign that marks the historic nature of the park as the birthplace of Pride in the park. Behind the marker is a vibrant particle rainbow celebrating Pride. Visitors can then take photos against the beautiful park background or by the Gay Liberation monument. They can share their photos on their social media accounts with the hashtag #FirstRainbowNYC along with the link to the WebAR experience.
Created by Arlene in collaboration with Flowcode and 8th Wall , this web-based augmented reality experience uses 8th Wall's World Tracking technology. With no app required, the experience is accessible through the browser making it a fun experience for both park visitors and anyone around the word celebrating Pride.
To experience The First Rainbow in Christopher Park in NYC, scan QR codes found on posted signage in the park throughout Pride Month.
To bring the Fist Rainbow to wherever you are to celebrate Pride, tap here.