8th Wall
Blog
Industry-first WebAR cricket game promotes the launch of The Hundred tournament
The interactive game allows families to be a part of the event without leaving their homes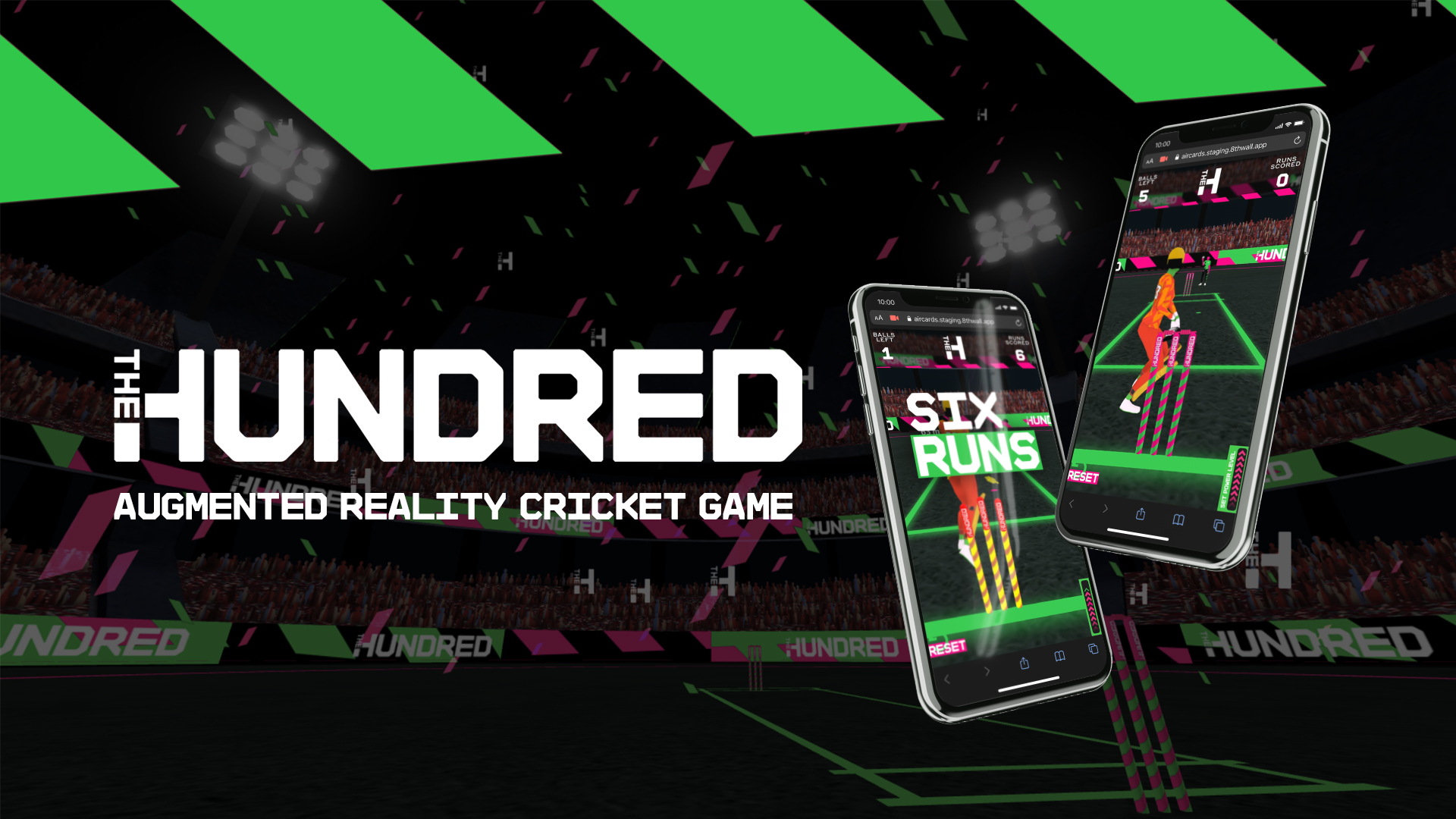 To promote a brand new sports competition for England & Wales Cricket Board (ECB)'s 100-ball cricket competition this Summer, The Hundred launched an industry-first WebAR cricket game that features never before seen use of WebAR technology.
To access 'The Hundred' WebAR game, users scan a QR code. Once scanned, users are asked to customize their character by picking their cricket team. After choosing between eight teams, each of which comes with its own uniform, users are asked to further personalize their character by entering their initials. Once all of these steps are complete, users are transported to The Hundred stadium where they can compete in their own live-action version of the event from their phones.
In the game, players are asked to compete in the cricket competition by batting a ball and attempting to earn a high score. To accomplish this, users tap and hold the power bar until it has reached its max power. Next, users wait for the ball to be thrown by their opponent to swing their bat at the perfect position. Once the game is complete, players can share their scores and invite their family and friends to play or buy tickets for the real event.
The WebAR game was created to allow families to be a part of the event without leaving their living rooms. As The Hundred is a brand new sports competition, organizers of the event wanted to harness the power of WebAR to attract as many customers as possible.
"The Hundred has innovation at its heart, so working on an augmented reality game to drive engagement among our target audiences is a really exciting opportunity and a great addition to our wider campaign. Working closely with Threepipe, Mobsta and Aircards, this AR game gives users a taste of what The Hundred will be like, from the gameplay format through to in-game visuals and personalised kits. We want to throw crickets doors open to broader audiences and using this game across paid mobile advertising, with its sophisticated targeting, allows us to present The Hundred to our desired audiences in a fun and engaging way," said Jonathon Webb, Brand Manager of The Hundred.
Created by Aircards, in partnership with Mobsta and Threepipe, The Hundred WebAR game features realistic physics simulation, custom team selection, character customization, haptic vibration feedback and Spatial Analytics. Powered by 8th Wall, this highly interactive cricket gaming experience is an industry first for WebAR.