8th Wall
Blog
Introducing Public Profiles
8th Wall developers now have a permanent home on 8thwall.com to feature their WebAR projects
Today we are pleased to announce the launch of Public Profiles, a new offering from 8th Wall that gives all of our developers their own public-facing pages to feature their work on 8thwall.com. Public Profiles act as a portfolio to showcase your work, let users try out your experiences and even show and share your code if you so choose. These pages are designed to help you succeed by attracting new opportunities, inspiring the community and engaging new users.
Public Profiles aim to increase the discovery of 8th Wall developers, agencies and creative studios by featuring their work. For brands and organizations looking to use WebAR, these Public Profiles make it easier to find partners to work with. For developers, Public Profiles help them demonstrate the projects they have created in order to attract and win more business.
In addition, with over 1,000 commercial experiences powered by 8th Wall, developers will now have access to the single largest destination for WebAR content. This will act as a powerful resource for inspiration and learnings and provide valuable proof points to share with brands and organizations that are looking to use browser-based augmented reality as part of their business strategy.
Here is how to get started with your Public Profile.
Activate Your Public Profile
Your Public Profile is designed to make it easy for brands and organizations to discover you and get in touch. Your profile prominently features your logo and includes other essential information such as your location, bio, website and social links. All 8th Wall Pro and Enterprise workspaces now have their own Public Profile on 8thwall.com that can be easily activated by workspace owners and admins. Once activated, you will be provided with a unique Public Profile URL and can begin to feature projects on your page.
Feature Your 8th Wall Projects
Once your Public Profile is activated, you can begin featuring your 8th Wall projects on your profile. The Featured Project page is optimized to showcase your work both with detailed information and visually using embedded video and screenshots (including GIFs). Projects of any type, including non-commercial and commercial projects (both active and completed), can be featured. Once published, your Featured Project will be added to your Public Profile for everyone to discover and share.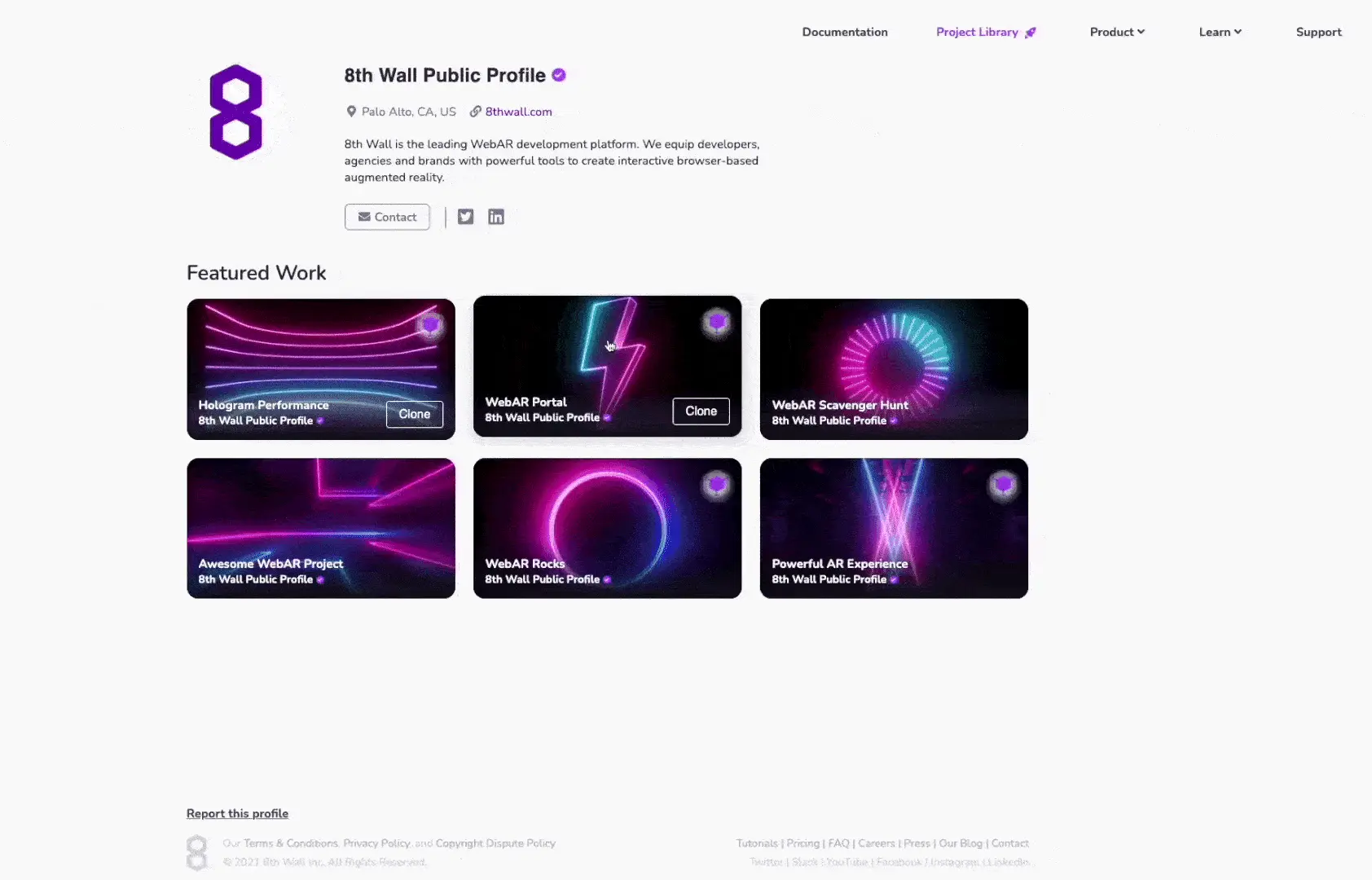 Let Users Try Out Your Experience
To let visitors demo the experiences featured on your profile, we have made it easy to add a "Try It Out" button to your Featured Project pages. This option is available only for projects created with the 8th Wall Cloud Editor. When this option is selected, a "Try It Out" button will be added to your Featured Project page which will link directly to your public 8thwall.app project URL. This makes it easy for users to experience your project with just one click on mobile or by providing a QR code to scan if they visit this page using a desktop computer.
Opt to Make Your Code Cloneable
For developers who want to share their code with the 8th Wall community, we have provided you with an option to make your code viewable and cloneable from your Featured Project pages. This option is only available for projects created with the 8th Wall Cloud Editor. When this option is selected, a new "Code" tab will be visible on your Featured Project page which will make your published code viewable. In addition, your Featured Project page will also feature a "Clone" button which will make it easy for other 8th Wall developers to clone your published code into their workspace.
8th Wall Partners have already begun showcasing their work with Public Profiles. Check out a few of these pages for inspiration:
To view more profiles from our 8th Wall Partners, access their Public Profiles from the Partners page.
Activate your own Public Profile and start featuring your 8th Wall projects by logging into your workspace. Want to learn more about how Public Profiles work? Head on over to our Documentation.
We can't wait to see you activate your Public Profile and showcase your work to the world! 🌎
🙌 A big thank you to our developer community for consistently providing us with helpful feedback on our product. We're continuing to develop and iterate using the valuable input that you provide us.