8th Wall
Blog
Coca-Cola Europacific Partners NL is the first company in the world to add AR experience to the serving of soft drinks
The Soda Experience brings drink menus to life through realistic WebAR experience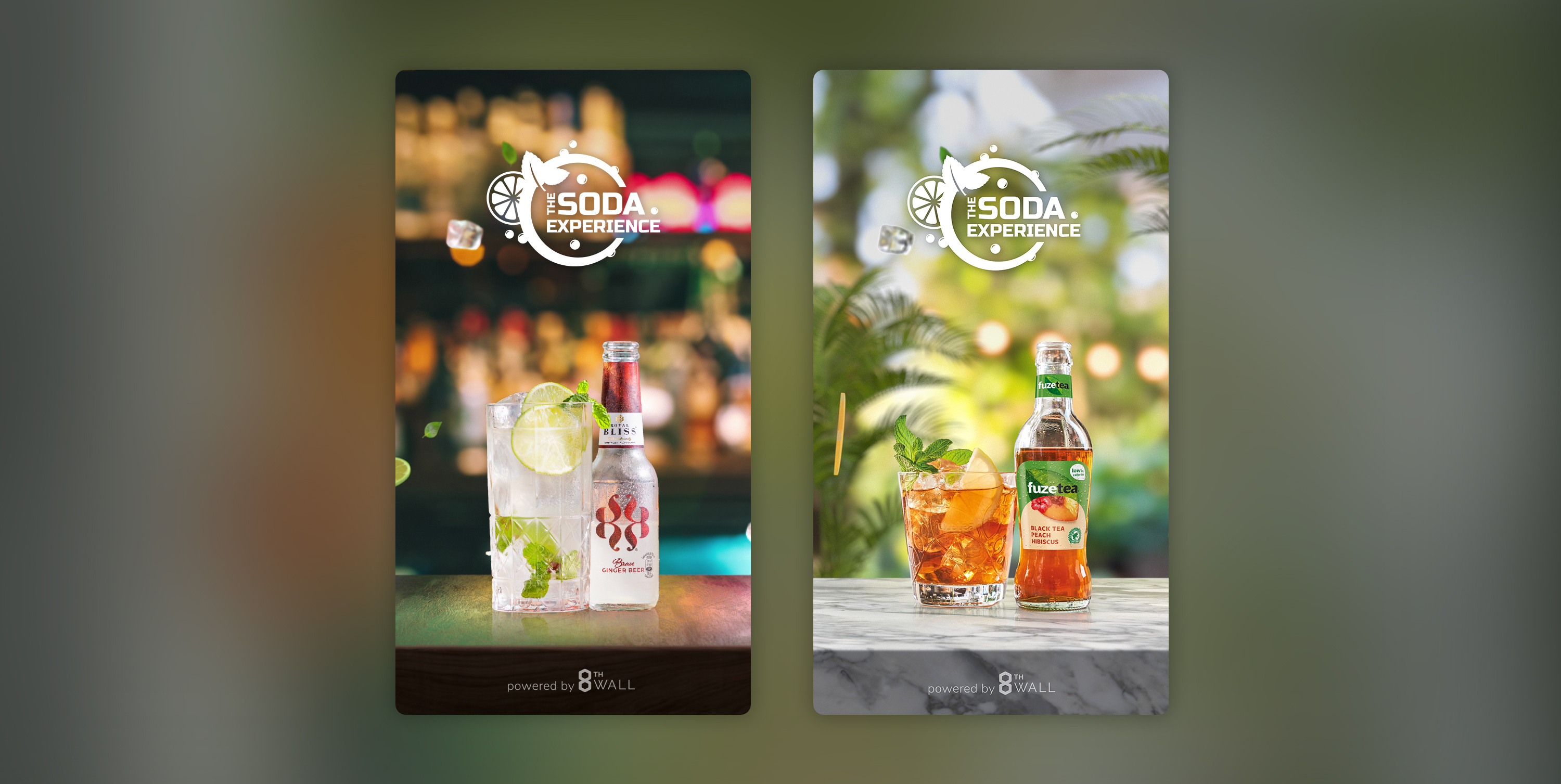 To increase engagement and sales for its hospitality sector partners in the Netherlands, Coca-Cola Europacific Partners launched an augmented reality experience that brings its drink menus to life. Acting as a point-of-sale activation, The Soda Experience provides CCEP's hospitality sector partners an easy tool that they can use to offer their customers new and innovative ways to experience the perfect soda serve of selected Coca-Cola drinks in WebAR.
To activate the experience, users scan the QR codes found on the Coca-Cola menus using their smartphones. Once scanned, users choose between 11 different Coca-Cola perfect serves products including Coca-Cola Zero Sugar, Fuze Tea, Finley and Royal Bliss and place it in their physical space. After selecting their favorite drink, users can take a photo to share with their friends or click the information icon button to learn more.
The Soda Experience offers hospitality sector partners a tool that fits in with the growing importance of providing experience, inspiration and information in the hospitality industry. As The Soda Experience is built to continuously evolve and is web-based, CCEP's hospitality sector partners can continue to use the same QR code while benefiting from the updated technology. By adding different themes, innovative services and activations around customer experience, The Soda Experience encourages guests to continue to use the QR code when visiting their favorite CCEP Coca-Cola hospitality sector partner.
As part of its digital first strategy, CCEP integrated the use of WebAR to attract more customers for its hospitality service partners. The Soda Experience featured sophisticated liquid animations and pushed shader development to the extreme with a combination of organic materials, glass, liquid, ice and metal. The end result was a realistic soda serve experience in WebAR. As visual aspects play an important role in a customers final drink choice, this realism of the drink is expected to lead to an increase in Coca-Cola product purchases.
Created by GoSpooky, social-first marketing company from the Netherlands, in collaboration with Lusion and powered by 8th Wall, the creation of The Soda Experience makes Coca-Cola Europacific Partners the first company in the world to add an AR experience to the serving of soft drinks.
🥤Try the experience out for yourself by tapping this link.