8th Wall
Blog
Doritos launches augmented reality experience to encourage live music fans back to events
The "Make Your Play" campaign allows fans to enter for the chance to win free tickets to live music events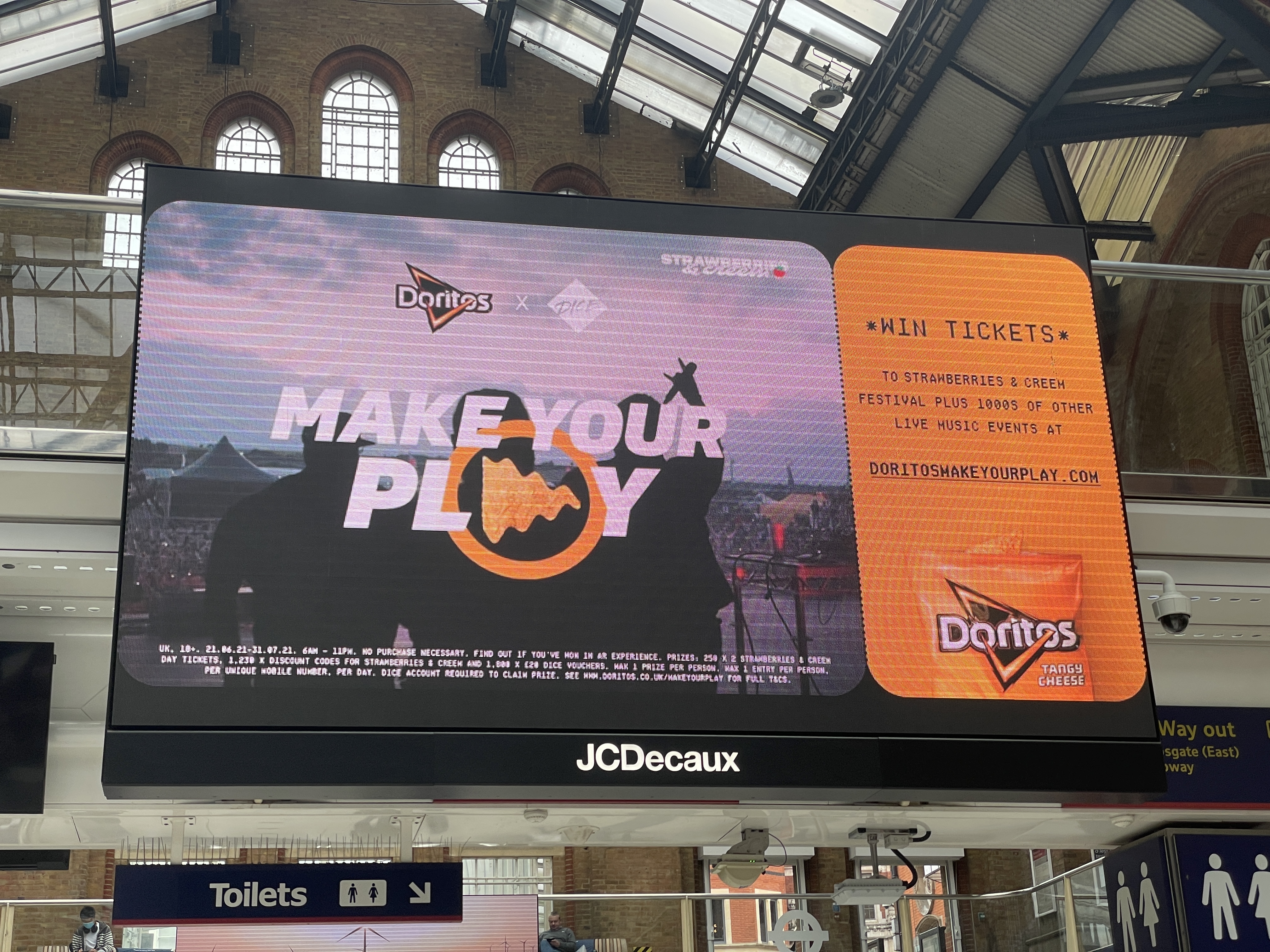 To encourage live music fans back to events this summer, Doritos launched their "Make Your Play" platform. This platform, which was supported by a campaign utilizing augmented reality technology, allowed fans to enter into a competition to win tickets for festivals, events and discounted tickets.
To participate in the campaign, UK residents were asked to find the interactive Make Your Play buttons on posters across their cities. Once found, users scanned the QR code via their smartphone to trigger the experience. Next, users placed a play button featuring the iconic Doritos chip turned on its side in their physical space. When placed, the play button transformed into an audio reactive portal showing 3D objects and music content.
After completing the experience, users were able to enter into a competition for the chance to win free tickets to live music events. As play buttons were being activated across the country, Doritos unlocked 250 pairs of day tickets on DICE to Strawberries & Creem Festival, as well as further discounted tickets to watch the superstar line-up including Koffee, Burna Boy, PARTYNEXTDOOR and Bugzy Malone.
"It's been a particularly difficult time for the music industry, which is why we wanted to create meaningful partnerships with innovative leaders in the music space who reflect our goals and values and use innovative technology to engage fans who have been at home over the past year. We are delighted to have created a campaign that encourages live music fans to enter competitions via our Make Your Play activation using augmented reality technology - enabling the music starved fans to hit play on life again," said Clafoutie Sintive, Marketing Director Snacks UK at PepsiCo.
With a lack of in-person events due to the pandemic, consumers were driven to a digital-first experience and brands looked at ways to recreate engaging experiences for potential customers online. As a result, Doritos turned to augmented reality to help promote in-person events.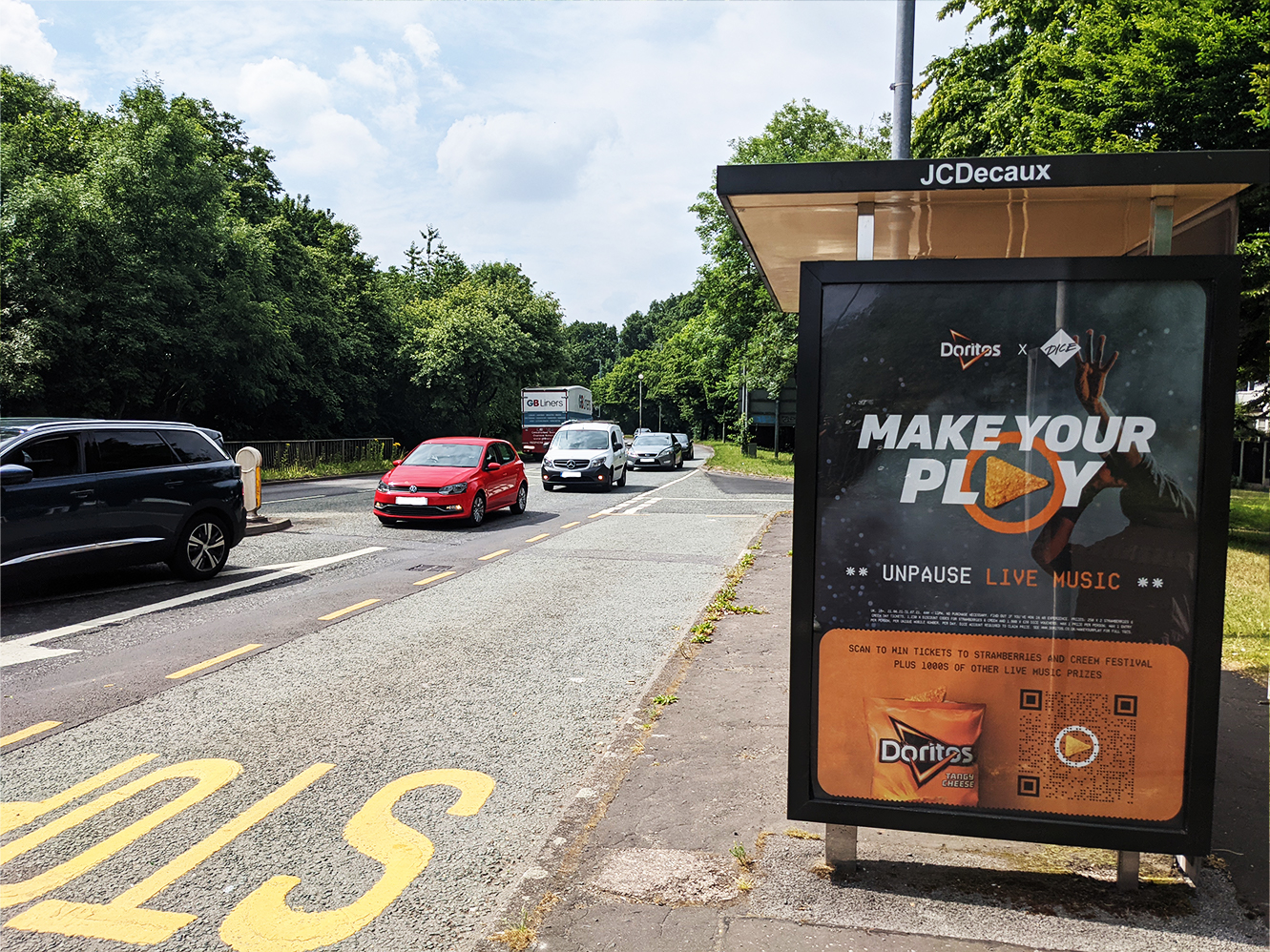 "Over the pandemic, brands had to compete in a very crowded digital market and lacked the tools and technology to showcase their brand. Many have utilized technologies such as AR to create unique, interactive and engaging experiences for customers at home, either through campaigns, social media or on their website. We are thrilled to be working with Doritos, taking their campaign to the next level and bringing their ads to life to help reconnect fans to live music and assist driving the events industry forward," said David Ripert, CEO and co-founder at Poplar Studio.
Created by Poplar Studio and powered by 8th Wall, this WebAR experience was displayed on interactive posters across London, Manchester, Birmingham, Leeds, Glasgow, Liverpool, Bristol, Brighton, Cardiff and Southampton. With no app required, users were able to see the Make Your Play buttons pop up physically and virtually, unlocking a summer full of live music events.
Read more about this experience on VR Focus.