8th Wall
Blog
Afterpay launches first-ever AR shopping experience for Afterpay day
The campaign allows customers to access exclusive deals and drops in web-based augmented reality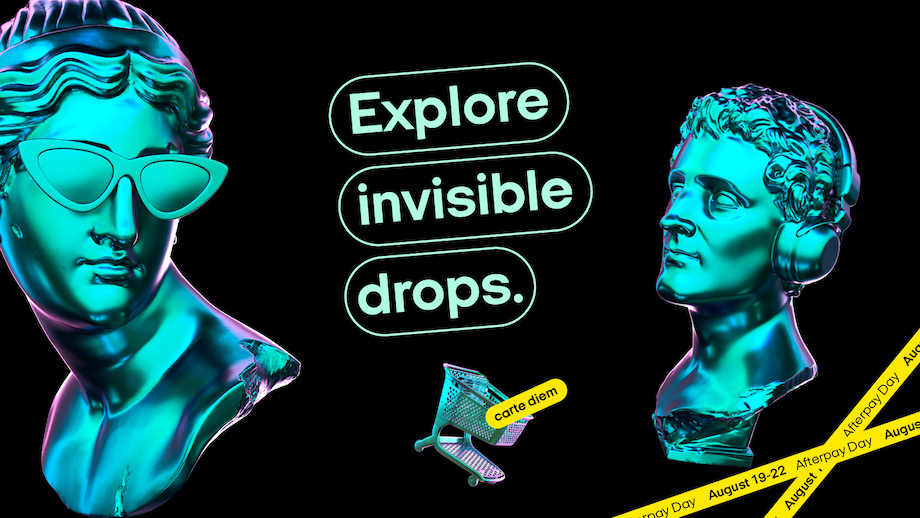 To celebrate Afterpay Day, Afterpay is launching it's "Invisible Drops" campaign, allowing Australians and New Zealanders to access and discover exclusive Afterpay product drops via a unique shoppable AR experience—all with no app required. A first for Afterpay Day, the campaign will feature exclusive product drops from some of Afterpays top brands including SEPHORA, Dyson, Culture Kings and RIC3.
Customers access the experience by scanning QR codes found across the Afterpay site, app, social media or YouTube. Once scanned, users place the augmented reality experience in their own environment which reveals Afterpay Day branded elements such as a statue and shopping cart as well as a button that allows users to "shop all deals". Users can click the button to immediately shop all of the Afterpay deals or click on product icons such as SEPHORA, Dyson, Culture Kings and RIC3 on the bottom of their screen to see additional details on the deals and products from each brand.
With Australians currently experiencing ongoing lockdowns, the WebAR experience gives shoppers an exciting and immersive way to access exclusive content. In addition, the campaign lets customers experience products in 3D in their own space before purchasing online, bringing the in-store experience directly to customers wherever they are and increasing shopper confidence.
The augmented reality experience is part of an integrated campaign across Australia and New Zealand. Created in collaboration between Afterpay, AnalogFolk Sydney, VALIS, and powered by 8th Wall, this experience allows customers to access exclusive deals and drops in 3D augmented reality.
Afterpay Day will run from Thursday, August 19th through Sunday, August 22nd and will include 70% off top retailers.
To access amazing deals and try out the experience, click here.