8th Wall
Blog
8i and 8th Wall unlock livestreaming holograms in WebAR
First-of-its-kind integration creates an end-to-end hologram solution to capture, transform and stream recorded and live broadcast volumetric video in WebAR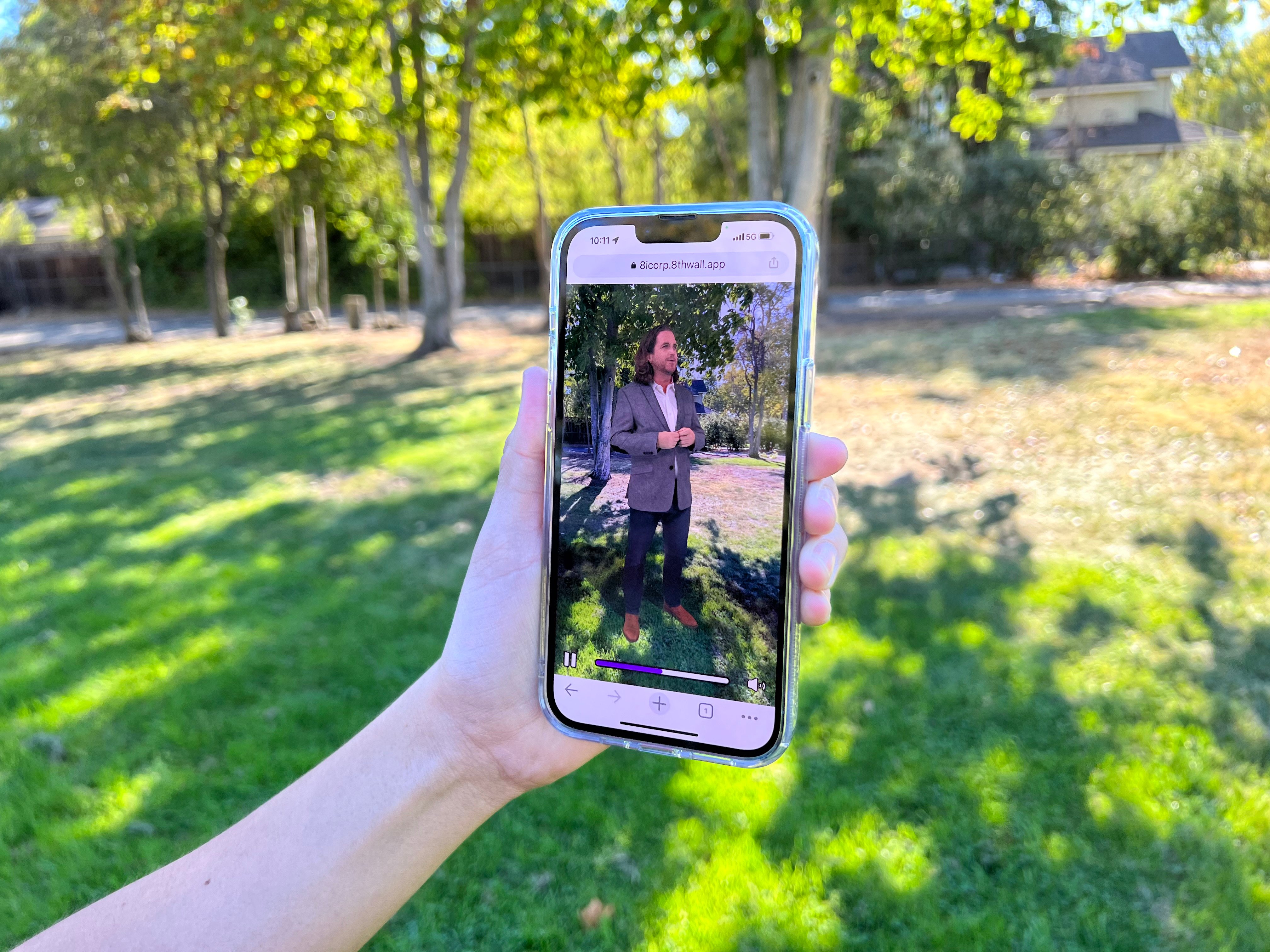 We are pleased to announce the latest integration with volumetric video partner, 8i, which provides an end-to-end solution to capture, transform and stream recorded and live broadcast volumetric video in WebAR. Livestreaming holograms represents a fundamental advancement in volumetric video technology that enables the future of communication in 3D, where real people — not avatars — are brought into immersive digital environments in a live broadcast, instead of taking days or weeks to render, an industry first. Combined with 8th Wall's powerful AR engine which enables high quality, interactive augmented reality experiences to work in the browser, livestreaming holograms can be accessed on nearly 3.5 billion iOS and Android devices with no app required to download.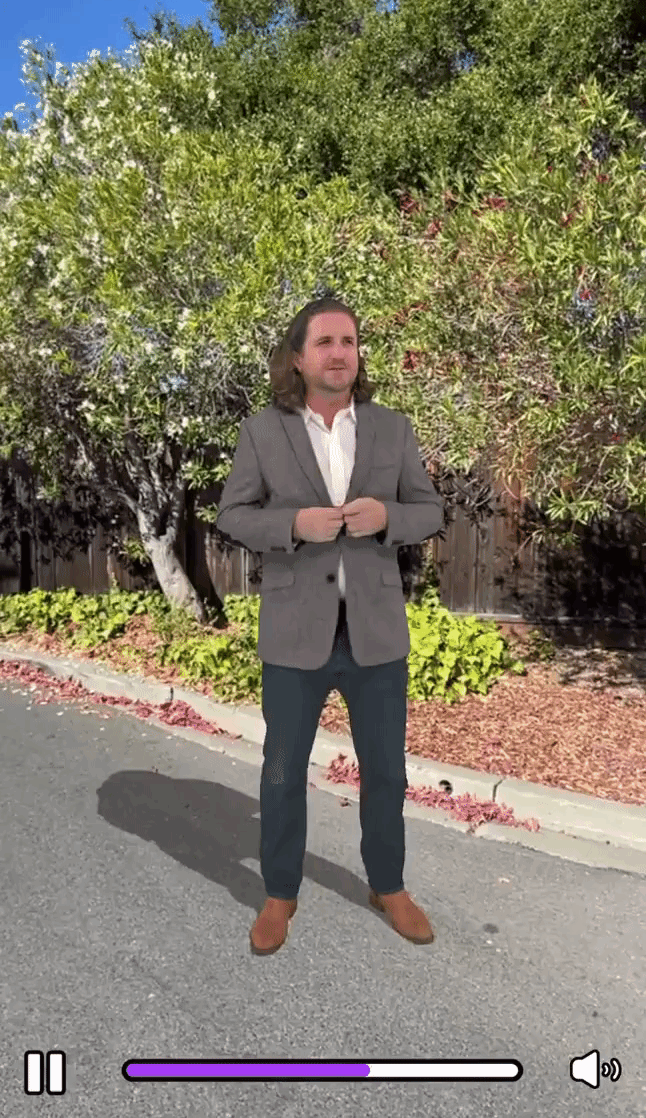 8th Wall's integration with 8i enables an end-to-end solution to capture people on a hologram stage, transform them into a 3D asset, and stream them in WebAR. This allows users to place the hologram in their world space creating an immersive and personal experience that makes the hologram feel as if they are there with them in their physical space. Livestreaming holograms in WebAR is a world's first to market and this integration opens up a number of use cases including immersive presentations and events, education and training, sports and entertainment, e-commerce, marketing and advertising and more. Additionally, 8i's adaptive bitrate streaming means that users will receive the best quality version of your volumetric video for the connection they are using to engage with your experience.
Starting today, 8th Wall developers can stream 8i volumetric videos in their WebAR projects, either pre-recorded or live broadcast, using 8i's live broadcast hologram technology. With multiple capture studios in the United States, New Zealand, Japan, Korea, and Thailand, developers can work with 8i to create immersive volumetric experiences wherever they are.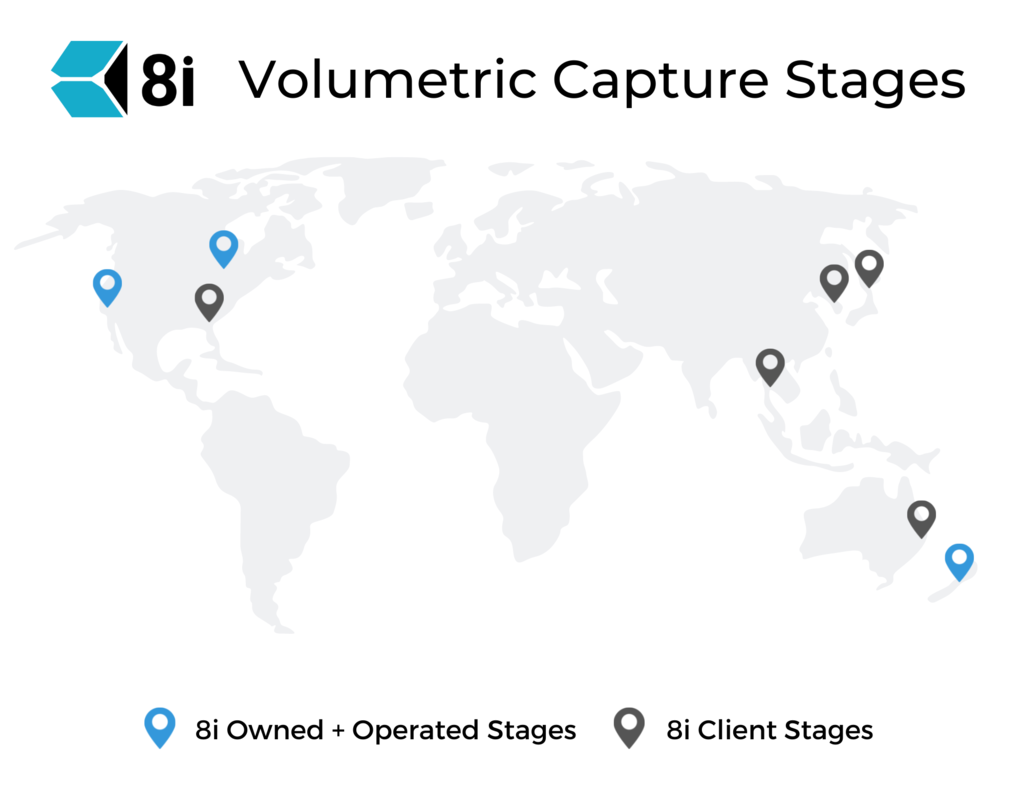 Here's How To Get Started
Get Your 8i Volumetric Video URL or File
As part of 8i's product offering, developers can choose to capture, transform, and stream live broadcast volumetric video or use pre-recorded content. To stream pre-recorded content, once your 8i hologram is complete, you will obtain the URL to an 8i-hosted MPD file. This is an industry-standard file format that contains all the information needed to describe the stream including the different quality profiles and their associated bit rates. 8i's playback allows for adaptive bitrate that will use the best possible quality based on the connection speed.
To livestream holograms into your WebAR project, you will receive a volumetric video URL from 8i. This URL will display a live volumetric video captured from an array of computer vision cameras and compressed in real-time into a single 3D asset for streaming.
Clone the 8i Sample Project
Now that you have your volumetric video file or URL, clone the A-Frame: 8i project from the 8th Wall Project Library to get started. Depending on the source that you are using, replace the MPD source that's there with your MPD file or replace it with the URL of the livestream stage. You can customize the project as needed to match your brand and goals.
Test and Publish Your Project
Once you Save + Build, you can preview your project by scanning the QR code at the top with a smartphone or tablet. If everything looks good, you're ready to publish. Congrats!
Interested in using 8i volumetric video in your 8th Wall project? Reach out to 8i to learn more and setup a demo at hi@8i.com. Already have an 8i capture? Get started by cloning the A-Frame: 8i project from our Project Library. To get started developing with 8th Wall, sign up for a 14-day free trial here.
This post was created in collaboration with 8th Wall partner, 8i.