8th Wall
Blog
New Integration: Create holograms using 4Dviews' high quality volumetric video capture system and stream them in 8th Wall WebAR
Developers can now easily add holograms captured using 4Dviews' HOLOSYS to 8th Wall projects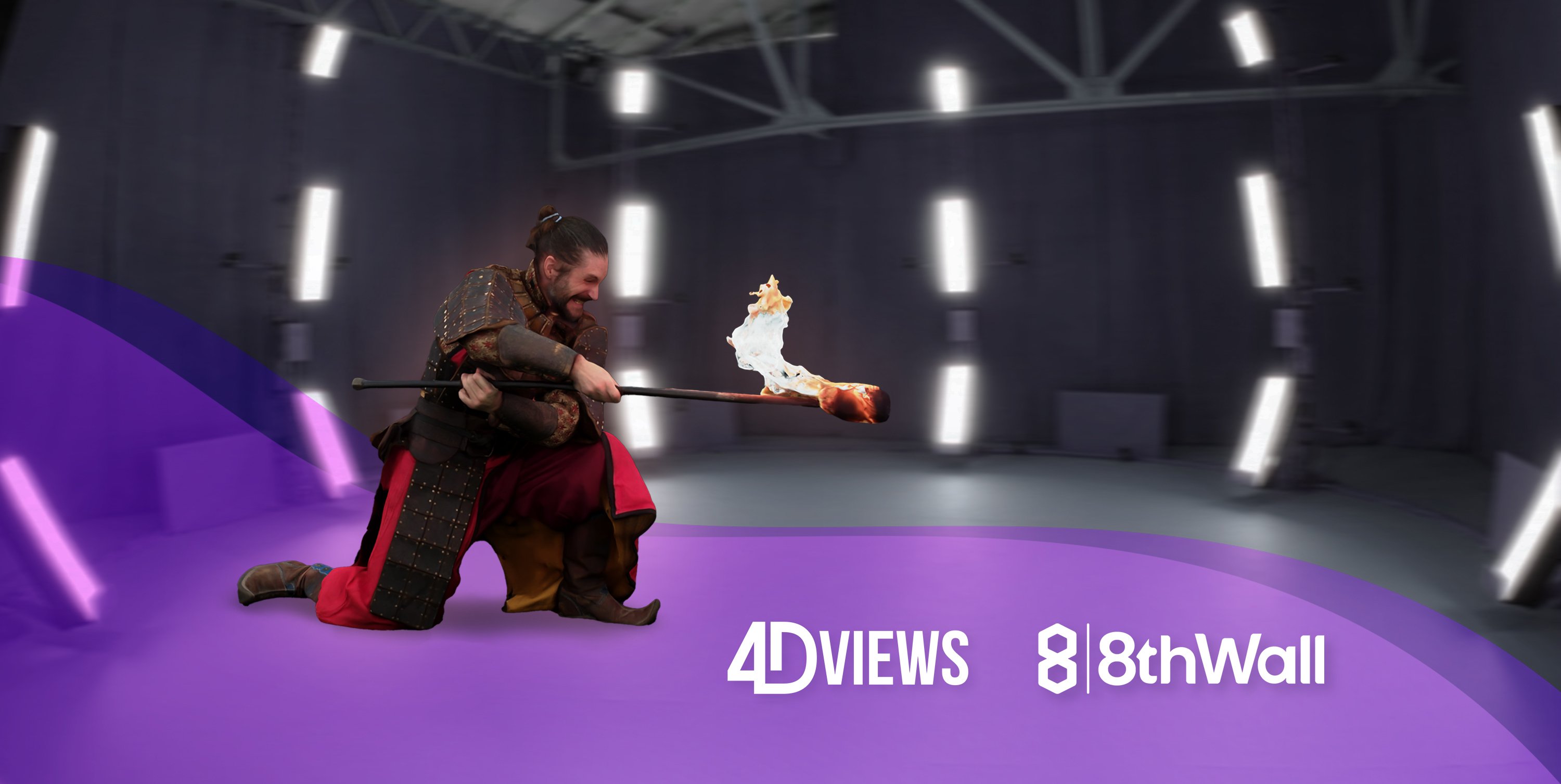 8th Wall has been the home of WebAR-enabled holograms since 2019 and we are pleased to announce our latest integration with our new volumetric video partner, 4Dviews. Starting today, developers can easily add high-quality holograms recorded with 4Dviews' volumetric capture system, the HOLOSYS, to WebAR projects to engage users on smartphones, computers and AR/VR headsets using 8th Wall's Metaversal Deployment.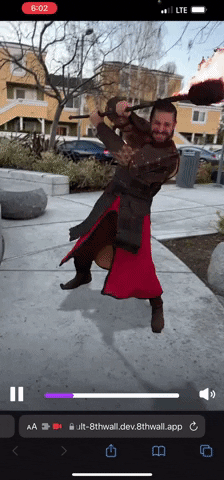 Founded in 2007, 4Dviews developed the world's first industrialized volumetric capture system. 4Dviews' HOLOSYS provides the highest quality of texture and mesh via its constantly evolving system design, while facilitating simple and universal uses in all professional & creative domains.
Additionally, professionals can take the HOLOSYS output and modify volumetric sequences with 4Dfx by adding transitions, deforming geometry, processing tracking points, adding time effects, and compressing output down to 2 MB/s, making it ready to be used across mobile devices and via the web.
Editing volumetric video using 4Dfx
Volumetric video is a powerful content type being used to create digital doubles of spokespeople, entertainers, celebrities and everyday people. 8th Wall has unlocked a massive opportunity for volumetric video by making it simple to distribute holograms in AR in the browser with no app required. Brands and agencies are using WebAR holograms to sell products, elevate conferences, bring performers into people's homes and a variety of other use cases.
4Dviews expands the geographic locations where 8th Wall developers can send talent for volumetric video capture, with convenient locations in France, The Netherlands, Japan, Taiwan, and the United States. As an all-in-one solution, the HOLOSYS provides reliable, long-term operation, while ensuring a fair price, without additional software or hardware license fees. The HOLOSYS includes everything needed to start filming amazing volumetric videos from day one. The system features portable hardware which works on freestanding camera pods and has been designed for fast assembly & disassembly to allow easy transportation from one place to another. In addition to visiting one of the many 4Dviews capture stages around the world, developers who want to build their own volumetric capture studios can take advantage of the 4Dviews' HOLOSYS package to create their own stage, at a location of their choice!
4Dviews Volumetric Video in action
How To Get Started with a 4Dviews 8th Wall project
Get Your 4Dviews Volumetric Video File
To get your 4Dviews volumetric video file, you can either use sample data available for free on 4Dviews' website or you can create volumetric video content using a HOLOSYS volumetric capture system. Once you have the generated .4DS files, you can use them with 8th Wall simply by adding a URL to your 8th Wall project.
Clone the 4Dviews Sample Project
Now that you have a 4Dviews volumetric video, clone one of the 4Dviews sample projects from the 8th Wall Project Library. 8th Wall has templates for both A-Frame and three.js projects that are fully integrated with the latest 4Dviews volumetric video player SDK.
Configure Your 4Dviews URL in the Project
Once your project is set up, set the main-4ds source of your hologram-4ds primitive to the URL of your hosted .4DS file. Easily configure the scale of your volumetric video and add interactions like pinch to scale, and hold to drag. The hologram-4ds.js contains all the logic for the hologram interactions. It is here that you can control behavior and even display messages based on playback states (i.e. "loading").
Publish and Feature Your Project
Once you "Save + Build" your project in the Cloud Editor, you can preview it by scanning the QR code found at the top of the editor with your smartphone or tablet. When everything looks good, you're ready to publish using 8th Wall's included hosting. Once you've published your avatar-enabled experience, you can now add it to the growing catalog of 8th Wall experiences in the Discovery Hub. You can do this by heading to the "Feature Project" tab in your project navigation and publish it to your Public Profile.
Interested in using 4Dviews volumetric video in your 8th Wall project? Reach out to 4Dviews to get started. Already have a 4Dviews capture? Get started by cloning the A-Frame: 4Dviews project from our Project Library. To get started developing with 8th Wall, sign up for a 14-day free trial here.
This post was created in collaboration with 8th Wall partner, 4Dviews.