8th Wall
Blog
Expanding the WebAR Developer Ecosystem
Announcing new subscription plans, monetization tools and distribution capabilities to help developers build a successful business with the 8th Wall platform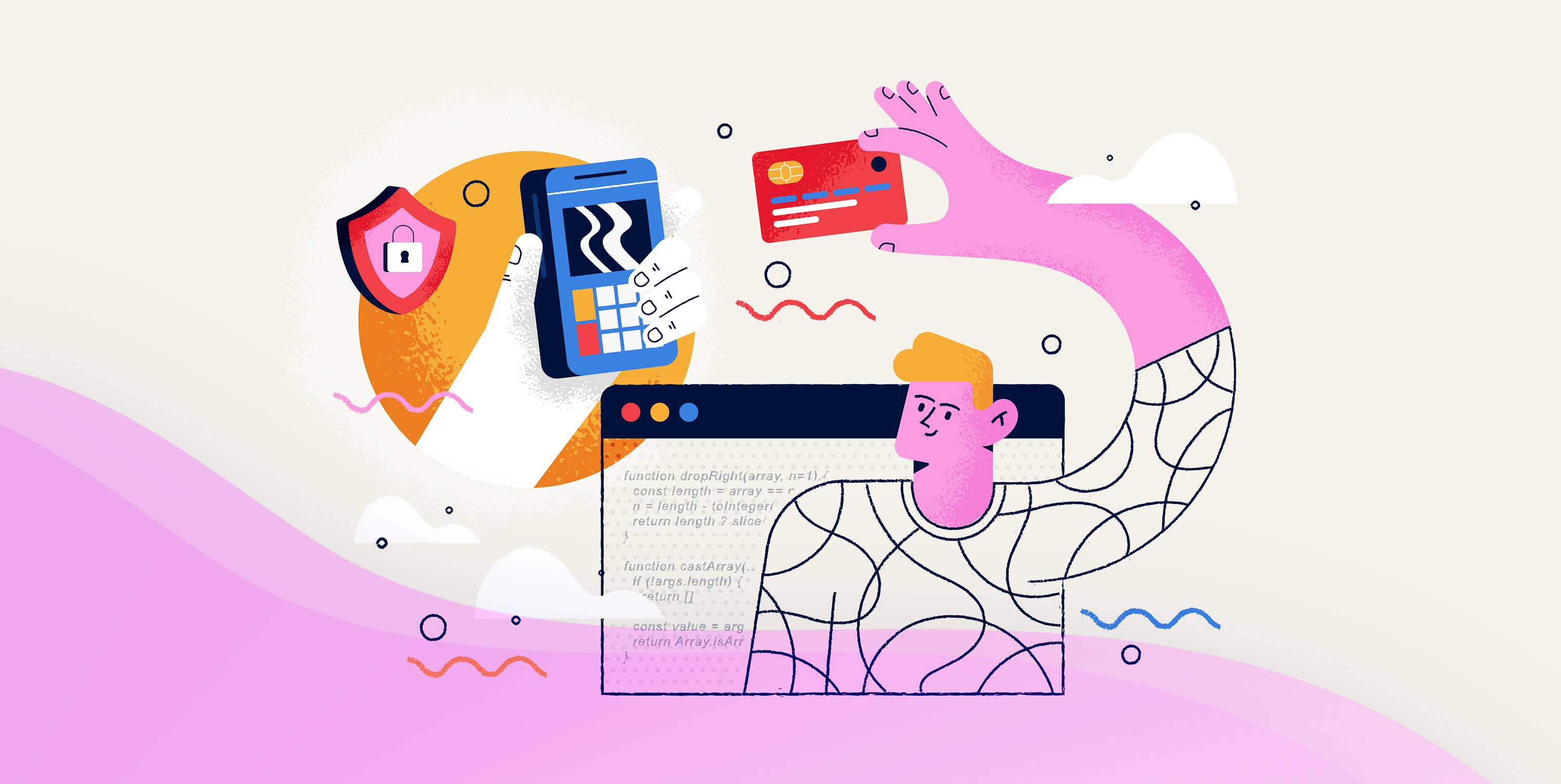 Something big is happening on the Web.
The Metaverse is positioned to be the next iteration of the Internet, large gaming studios are moving away from app stores in favor of web apps, and new technologies such as Web3, AR and VR are transforming how we engage with content in the browser.
At Niantic, we have seen tremendous demand from developers who are eager to use the 8th Wall platform to create web-based AR and VR content that requires no app to download. To meet this demand, and equip even more developers with our complete set of tools, we are launching a number of new features.
Today, we are announcing new subscription plans, powerful monetization tools and valuable distribution capabilities to help developers succeed with their AR and VR web apps.
New subscription plans designed for first-party WebAR development
To make access to 8th Wall's complete set of tools more affordable for independent developers and small teams, we are introducing two new monthly subscription plans starting at $9.99.
The Starter plan provides developers with everything they need to get started with 8th Wall. For $9.99/month, developers on the Starter plan can create unlimited WebAR and WebVR projects with the Cloud Editor and publish their web apps to 8thwall.com using our global hosting services.
The Plus plan at $49.00/month builds upon the features available in the Starter plan and provides developers with even greater flexibility in sharing their web apps. Developers on the Plus plan have access to direct project URLs, embeddable AR, progressive web apps and can connect custom domains. The Plus plan is designed for developers who are seeing success with their AR and VR web apps and want to take their user growth to the next level.
These new plans complement our existing Pro plan which is optimized for agencies and creative studios creating campaigns and performing work-for-hire for clients.
Monetize AR and VR web apps with 8th Wall Payments
The power and freedom of the Web offers developers a wide variety of opportunities to build a business online, but tools to code are just part of the equation for success. Monetization is a key challenge for web developers, and to solve for this, we are excited to announce 8th Wall Payments.
8th Wall Payments gives all developers the tools they need to add secure payments to their AR and VR web apps. Developers can use the Payments Module found in the Cloud Editor to easily add products for purchase to their project. All payments are facilitated by the 8th Wall Payments API which enables developers to collect and receive payments.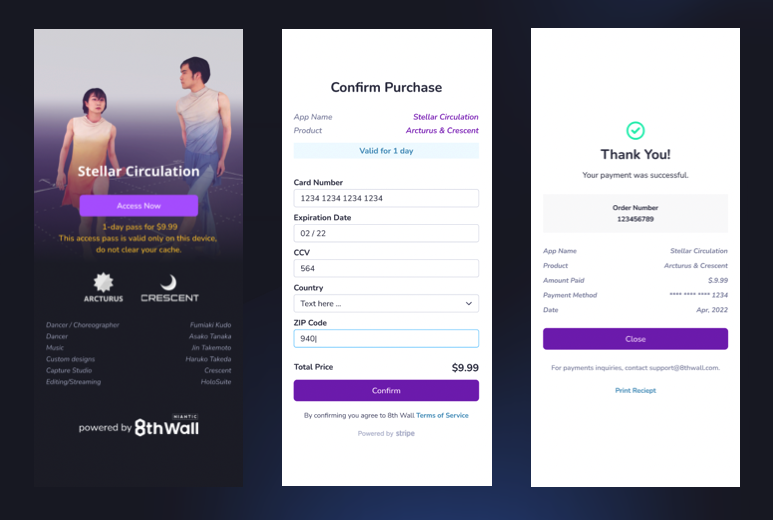 At launch, developers can use the Payments Module to add an access pass to their projects. This payment type offers users paid access to AR or VR content for a limited period of time. Access passes are well suited to enable paid access to AR/VR events such as a 1-day ticket to a holographic concert or a virtual art exhibit or 7-day access to an AR-enabled scavenger hunt.
Increase discovery of AR and VR web content by publishing to 8thwall.com
The Web has massive reach but its expanse also makes it challenging to discover web content. Equipping developers with tools to help them get their content discovered is essential for their success. 8th Wall already provides developers with a variety of ways to distribute WebAR content including our QR.8 codes, 8th.io short links and the ability to embed WebAR into any existing website.
Today, we are adding to these tools by giving all developers the ability to publish AR and VR web apps directly to 8thwall.com. 8thwall.com is already the single largest destination to discover WebAR content. The growing catalog features branded WebAR content published by our agency and creative studio partners. This catalog has helped our agency partners get discovered by brands and has become a powerful acquisition tool. By expanding the ability to publish content to 8thwall.com, we are making this powerful discovery and acquisition tool available to the wider developer community.
Developers will also get their own Public Profile page on 8thwall.com. Public Profiles act as powerful portfolios for our agency partners, helping them secure work from brands around the world. This same tool will now be available for developers, such as students and freelancers, helping them build a portfolio of WebAR and WebVR projects they can use to secure a job.
The 8th Wall team at Niantic is on a mission to make augmented reality for everyone and we are doing this by enabling developers with tools to harness the power and freedom of the web. With the new plans, monetization tools and distribution capabilities launched today, we are equipping even more developers with a platform to build browser-based AR content including tools to help them succeed. Together, we are making the browser a powerful place for AR.
Learn how to use 8th Wall Payments in your next project with the new Access Pass sample project found in the Project Library. Don't have an 8th Wall Workspace? Get started developing your own AR and VR web apps by signing up for your 14-day Free Trial.
We can't wait to see what you create!
- - - -
🙌 A big thank you to our developer community for providing us with helpful feedback on our product. We're continuing to develop and iterate our product using the valuable input that you provide us.