8th Wall
Blog
Introducing Lightship VPS for Web
Developers can now build WebAR experiences that are truly connected to real-world locations using the 8th Wall platform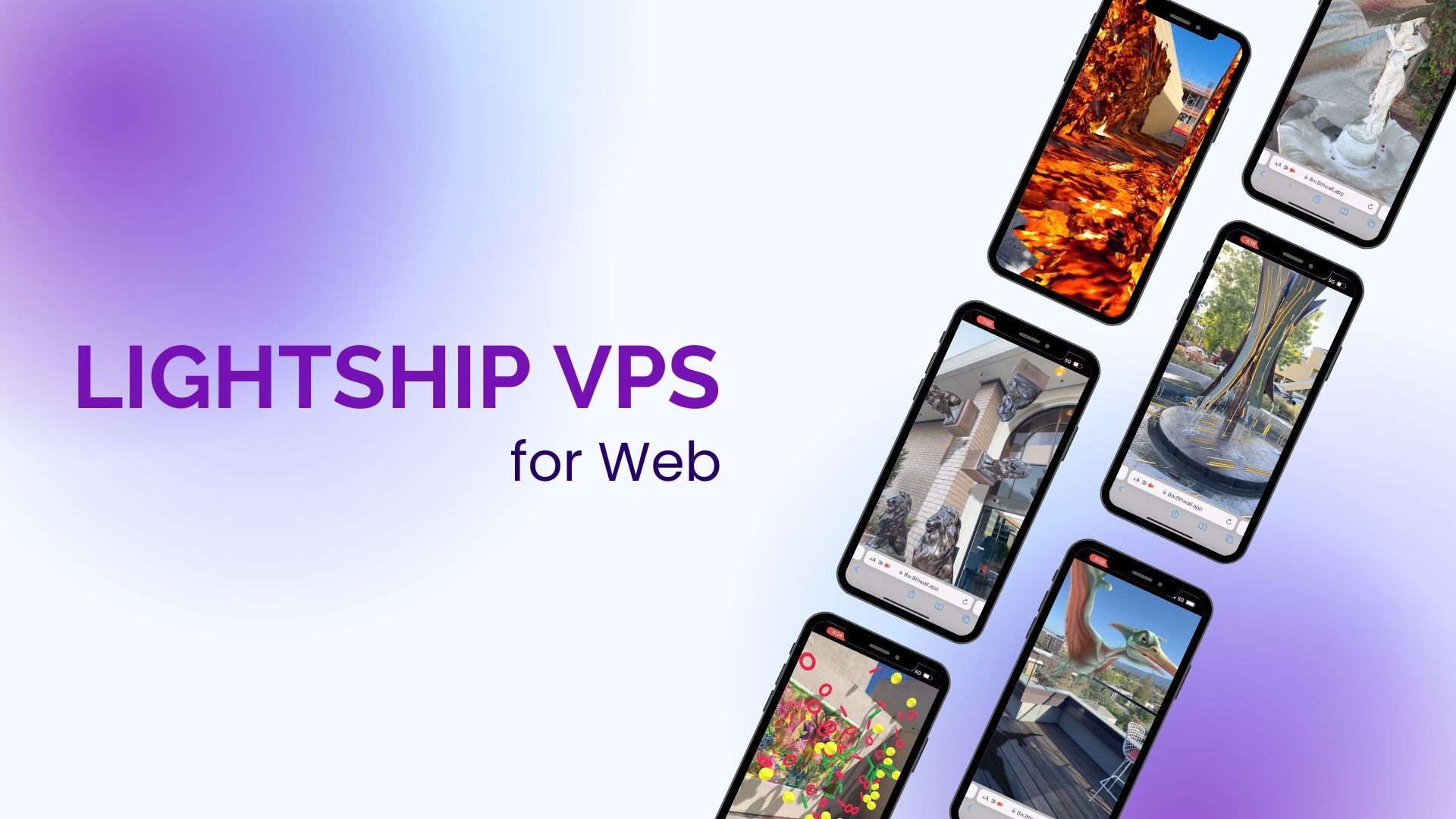 Today we are introducing Lightship VPS for Web, bringing the Niantic Lightship Visual Positioning System (VPS) to the 8th Wall platform. This first-of-its-kind browser-based technology connects the real world with the digital one by anchoring WebAR content to locations with unprecedented accuracy and precision. This enables location-based augmented reality experiences that feel more personal, more meaningful, and more real, and gives users new reasons to explore the world around them.
Lightship VPS for Web transforms everyday locations into experiential destinations. The technology gives new meaning to locations by unlocking its digital twin which can be augmented to create an infinite amount of extraordinary experiences. This drives traffic to a specific location, such as a statue in a park or a storefront in a city, to delight and engage users in brand new ways that result in real-world value.
Anchor WebAR content to real-world locations
Developers today want to build immersive location-based AR content which can be experienced at real-world locations. To do so, they must first understand exactly where their users are and what they're looking at. With Lightship VPS, developers now have the ability to determine a user's position and orientation with centimeter-level accuracy — in seconds. By bringing this powerful system to the 8th Wall platform, developers can now create VPS-enabled AR experiences that work directly within the mobile browser, requiring no app to download.
With our latest 8th Wall Engine update, Release 20, the 8th Wall Engine can now identify when a VPS location (also known as a Wayspot) has been scanned, found, or lost and will present developers with the necessary events to trigger and track AR content at a VPS-activated location. To facilitate the best user experience, we are also making available our Lightship VPS Coaching Overlay module to guide users through a quick flow to help them localize AR content at real-world locations. As with all our 8th Wall modules, this coaching flow can easily be added to any Lightship VPS for Web project and customized to suit your project's needs.
Instantly use over 100,000 VPS-activated locations worldwide
Built together as a community, Niantic's AR map is powered by scans of real-world locations from developers, surveyors, and players. The community has contributed millions of locations, photos, and scans, essential data that make it possible to serve localization with Lightship VPS. This level of detail ensures that users can confidently localize at a VPS-activated location, across various times of day, and seasons of the year.
Developers can add VPS-activated locations to Niantic's AR map, or immediately make use of over 100,000 VPS-activated locations available at launch, to build their own location-based WebAR experiences. Wayspots are not just streetscapes or public landmarks, but rather a collection of publicly accessible places that include parks, paths, local businesses, and more.
8th Wall developers can find, create, and develop with VPS-activated locations, including authoring and simulating their AR experience remotely, within the Geospatial Browser. The Geospatial Browser is a new area inside the 8th Wall platform which was built from the ground up for Lightship VPS for Web development. Here, developers can quickly search for Wayspot locations around the world, or create new Wayspots which they can activate and use in their projects. Developers activate VPS Wayspots by contributing scans - or short video snippets of real-world locations - using the Niantic Wayfarer app. These scans are then processed to build Niantic's AR map. The Geospatial Browser guides developers through the scanning and activation process and easily allows developers to add activated VPS Wayspots to their projects.
Access the 3D mesh of a location to make WebAR feel more real
For the first time ever, 8th Wall developers will have access to the 3D mesh of a location for use in their AR scene. This game-changing capability, made possible with Lightship VPS for Web, enables developers to create WebAR experiences using occlusion and physics and adds a greater level of interactivity between virtual objects and the physical world. This results in immersive and realistic augmented reality never before seen in the browser. These next-level WebAR experiences can be accessed on iOS or Android smartphones, including non-LiDAR enabled devices.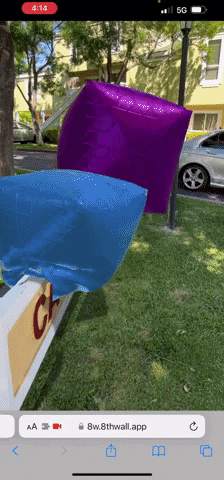 Developers can add the 3D mesh of a Wayspot to their projects directly from the Geospatial Browser to begin developing and testing their WebAR content in the browser. They can also generate and download the 3D mesh of a location as in GLB or OBJ formats for use in 3D software applications, such as Blender, for use as occluders, physics objects, or as a reference for creating location-aware animations. When a Lightship VPS-enabled WebAR experience is in use at a location, the 8th Wall Engine finds and accesses the Wayspot's raw mesh geometry to enable the WebAR experience to feel more immersive than ever before.
Create bespoke, procedural or multi-Wayspot VPS experiences
Using Lightship VPS for Web, developers, agencies, and brands can create bespoke AR content which can only be experienced at one VPS-activated Wayspot. This strengthens the need for a user to be at a specific location to engage with the experience, thus, driving traffic to one dedicated place. For developers who are looking to increase the reach of their location-based AR content, Lightship VPS for Web also enables procedural WebAR content, where one experience can be used at any detected VPS-activated Wayspot around the world. Developers can also opt to create a project which combines a series of bespoke VPS experiences within one project and present them on a map to help users locate these destinations, suitable for scavenger hunts or geo AR games.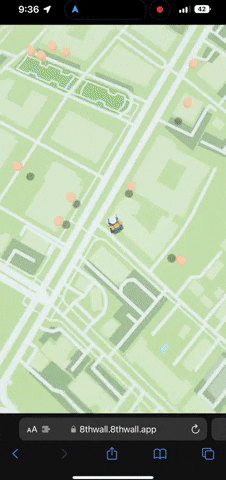 To help facilitate all of these use cases, we have added a series of Lightship VPS for Web sample projects to our growing Project Library. All of these sample projects can quickly be cloned to supercharge your Lightship VPS for Web development. We have also launched the Niantic Lightship Map for Web module to equip developers with an easily customizable map to add to their projects add to their projects which feature more than one VPS-activated Wayspot for users to discover and experience.
Get inspired with some of the first VPS-enabled WebAR demos
Lightship VPS for Web has already been in the hands of a select group of 8th Wall developers as part of a private beta prior to today's official release. These production studios have created some of the first WebAR demos with this new capability, demonstrating what is possible when WebAR is connected to real-world locations. These demos are activated at locations around the world including Tokyo, Paris, London, Vienna, Sydney, New York, Los Angeles and more. Discover some of the first Lightship VPS for Web experiences on the 8th Wall Discovery Hub.
Here are just a few of the things 8th Wall Partners are saying about Lightship VPS for Web:
"Lightship VPS for Web will unlock the next level of AR. By enabling brands to design persistent WebAR experiences that can convincingly wrap around, bounce off of, and melt onto the real world around us, Lightship VPS for Web will undoubtedly usher in a massive wave of innovation that I can't wait to see." - Austin Mace, CIO at Subvrsive
"This is a big step forward in the world of augmented reality because now we're able to embrace the contours of a real object, a monument or a statue, without going through it as it was the case before." Gabriel Picard, CCO at Atomic Digital Design
"Lightship VPS for Web opens the door for us to develop hyper-local, hyper-relevant content to engage our client's audiences in a deeper and more meaningful way than ever before." - Joe Golden, Creative Director at eyekandy
"Niantic's Lightship Visual Positioning System (VPS) for Web is a breeze to work with. I simply scanned the activation area, placed anchor points on the scan where I wanted the virtual objects to appear and connected everything up with a few lines of code. It really is that simple!"-- Thorsten Bux, AR Expert at Rock Paper Reality
"Lightship VPS for Web is a big deal for us, because it lowers barriers of entry, making geospatial AR widely accessible and shareable without friction and irrespective of platform. As passionate creators of content and experiences, we see a major milestone for a metaverse that doesn't replace physical reality, but amplifies and complements it." - Rainer Usselmann, Co-Founder of Happy Finish
Lightship VPS for Web is now available to all 8th Wall developers. Developers can begin creating WebAR projects using Lightship VPS for Web by cloning the Lightship VPS Bespoke sample project into their Workspace. New developers can get started by signing up for a 14-day free trial.
We can't wait to see how you use Lightship VPS for Web to build the Real-World Metaverse!
In Los Angeles, New York, or Tokyo? Join us on the Lightship VPS World Tour to learn how to develop with Lightship VPS for Web with hands-on mentorship with the 8th Wall team.
- - - -
🙌 A big thank you to our developer community for providing us with helpful feedback on our product. We're continuing to develop and iterate our product using the valuable input that you provide us