8th Wall
Blog
Community Spotlight: Meet Peter Locharernkul
Peter Locharernkul is an accomplished AR/VR developer whose work spans many experiences, including recent projects for AT&T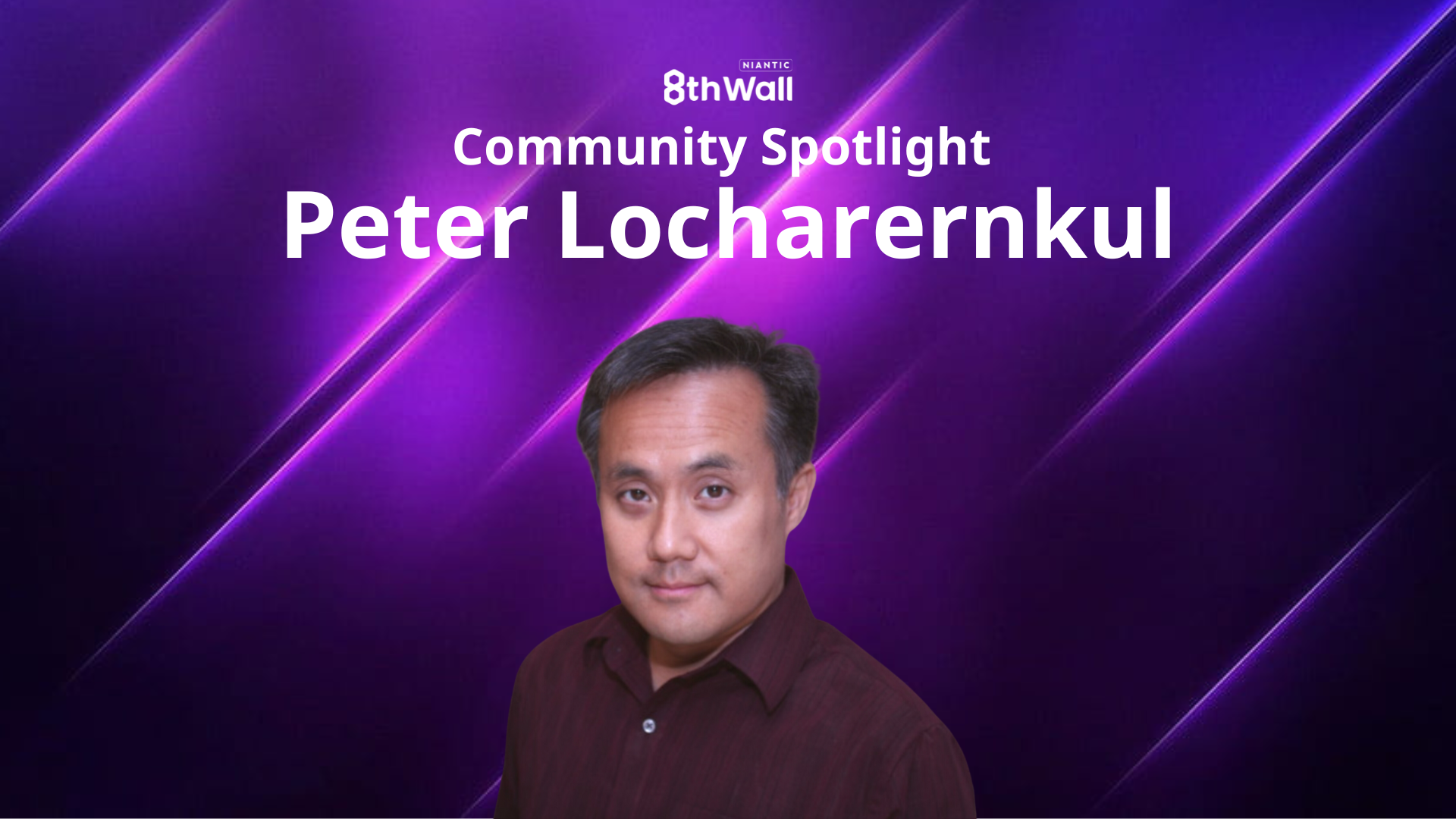 We're excited to begin highlighting the diverse and extremely talented members of the 8th Wall developer community through our Developer Spotlight series. First is Peter Locharernkul, Immersive Engineer at Brightline Interactive. Recently, Peter won the "Community Favorite" award for his immersive experiences in the Modules Challenge and the VPS challenge!
We hosted a Q&A with Peter to learn more about his journey across emerging tech, and how he found 8th Wall.
How long have you been developing on 8th Wall?
I started actively developing with 8th Wall last November when an opportunity for a mobile web-based AR activation was presented to Brightline Interactive. Around the same time, 8th Wall announced their first hackathon for a holiday themed AR experience and I've had a doodle-jump style game using AR in my head for a while. Which led to our game/holiday card Sleigh-ride Surfin' Santa. Hackathons are great to quickly turn around and try out my ideas. My first hackathon win was a Microsoft HoloLens entry which helped me land my first AR/VR gig.

What would you say is your area of expertise?
Ideating and rapid prototyping different varieties of casual, or hyper-casual, game mechanics. Before the advent of the app stores, I spent over a decade making flash games for branded arcade portals like espn.com, mtv.com, candystand.com and nabiscoworld.com where I spend my days devising a variety of mouse-based mechanics to emulate things like hitting a baseball, kicking a soccer ball, returning a kickoff…etc. Exploring what unique play mechanic can work with web-based AR, it all feels very similar to those halcyon days of making flash games.

How do 8th Wall's web-based capabilities help you bring AR to the real world?
Being able to get on-boarded and up-to-speed with 8th Wall has been relatively painless. The library of example projects to clone has been helpful starting points for almost every project. The web-based editor has made rapid development and deployment less time consuming. We can be more responsive to feedback. It's easy to make changes and updates for clients post-launch versus having to deal with app store approvals.
What does your future with AR look like?
My primary goal is continuing to experiment with how casual and hyper-casual games can translate into AR. I am especially excited about making multiplayer experiences. Would be wonderful if someday one of our AR projects went viral. Or even better bring back branded browser-based arcade portals but with a collection of web AR gaming experiences. I have a huge backlog of game ideas that I hope get to see the light of day.
What's a recent 8th Wall project that left you feeling inspired?
Our most recent 8th Wall project is one that Brightline Interactive are extremely proud of producing - The AT&T RBD Backstage Pass. It's an AR activation for the Mexican pop group Rebelde, or RBD, to help promote their current Soy Rebelde concert tour. The 8th Wall experience brings together a variety of different tech features, AR portal, 360 video, volumetric capture, face effects, capture photo, custom XRExtras, animation-mixer and place ghost model. It gives RBD fans access to go backstage and meet the band and join them on-stage and afterward they can create and share their own custom backstage pass while wearing the commemorative RBD red tie. There's a genuine narrative to the experience.