8th Wall
Blog
Experience an enchanted Holiday season both in store and at home with Lancôme's AR experience
Enjoy a mesmerizing view of Paris from the Eiffel Tower with this magical portal experience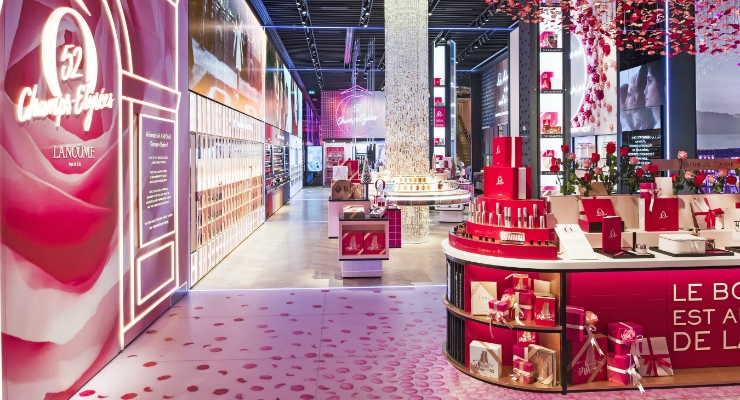 With Paris and Lancôme being inseparable, Lancôme decided to offer its customers a glimpse of Paris for the holiday season. Using augmented reality, customers around the world are transported to the Eiffel Tower through a magical portal experience.
Using their smartphones to access the experience in their mobile browser, customers begin the experience with a Christmas gift from Lancôme in their world space. Instantly, the gift begins to spin, unveiling four iconic Lancôme products and a glittering star. After collecting all of the Lancôme products that have dispersed in the user's space, the star transforms into a magical portal leading the user to the elevator of the Eiffel Tower. After reaching the second floor, the user witnesses a magnificent 180 view over Paris. The star then reappears and rushes into the night sky, revealing a message wishing them a happy holiday.
As Parisian imagery plays a central role in Lancôme's marketing, this Web AR experience allows the iconic French luxury brand to get closer to its customers by inviting them into its universe. With warm and elegant aesthetics, the experience takes inspiration from the sparkling trails dear to Eli Grita and merges them with Parisian landmarks to create a memorable brand experience. Available in over 3000 stores in every country that the brand is sold at, this experience is Lancôme's first worldwide AR endeavor.
Created by Wilkins Avenue AR and powered by 8th Wall, this experience allows Lancôme to share positivity and beauty with its customers for the holiday season both in store and at home. As the experience is web-based and does not require an app to download, customers around the world are able to engage with the Lancôme brand in a new and meaningful way.
Try out the experience for yourself here.