8th Wall
Blog
10 ways brands and marketers are using the power of Web AR to spread holiday cheer this season
Discover holiday experiences from Dior, Westfield, LUSH, Harrods, TGI Fridays and more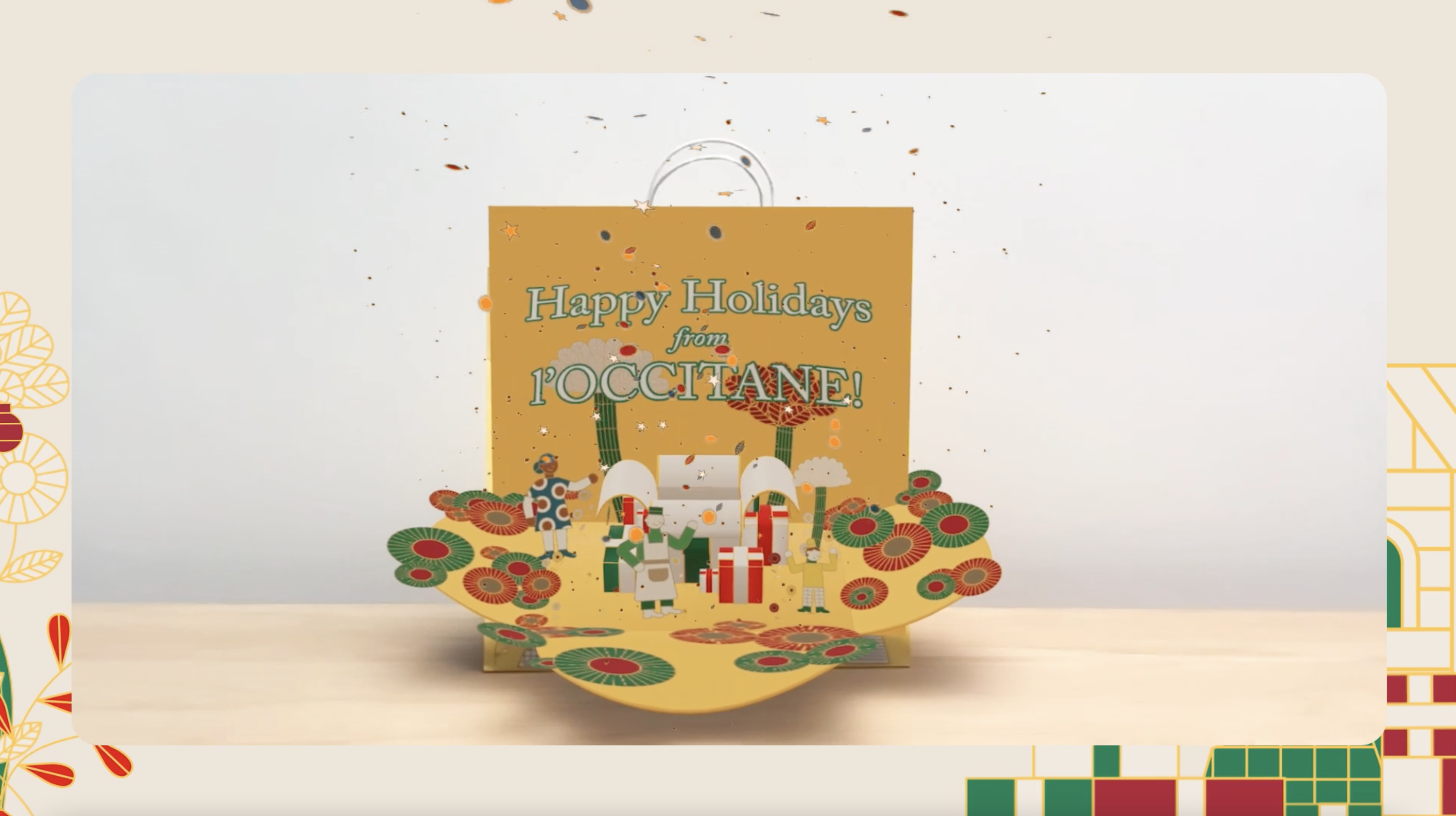 It's the most wonderful time of the year and this festive season brands are turning to WebAR powered by 8th Wall to bring holiday cheer to customers — no matter where they are.
From beauty to retail, tourism to food & beverage and everything in between, brands and marketers are leveraging the power of augmented reality to engage consumers in an interactive, personal and memorable brand experience.
Beauty
Dior Gifts the World With Its Holiday Gift Wrapping AR Experience
To celebrate the end-of-year festivities, Dior is giving its customers an extra present using the power of augmented reality. Celebrating the magical spirit of the fortune-telling arts, Dior has released a web-based augmented reality gift box and bag which reveal extraordinary animations once scanned.
Shoppers who visit Dior boutiques in-person can unlock a second experience which allows them to interact with the lucky stars that illuminate the Dior shop fronts all around the world. In addition, users can use the Dior face filter to interact with butterflies by shaking their head.
Created by Simone, this augmented reality experience was launched across a variety of platforms including 8th Wall, Snapchat, Instagram and Facebook.
Find the Snow Fairy's Secret Portal with LUSH's WebAR Experience
Working with Aircards, LUSH provided their audience with the unique opportunity to immerse themselves fully in the world of the Snow Fairy this holiday season.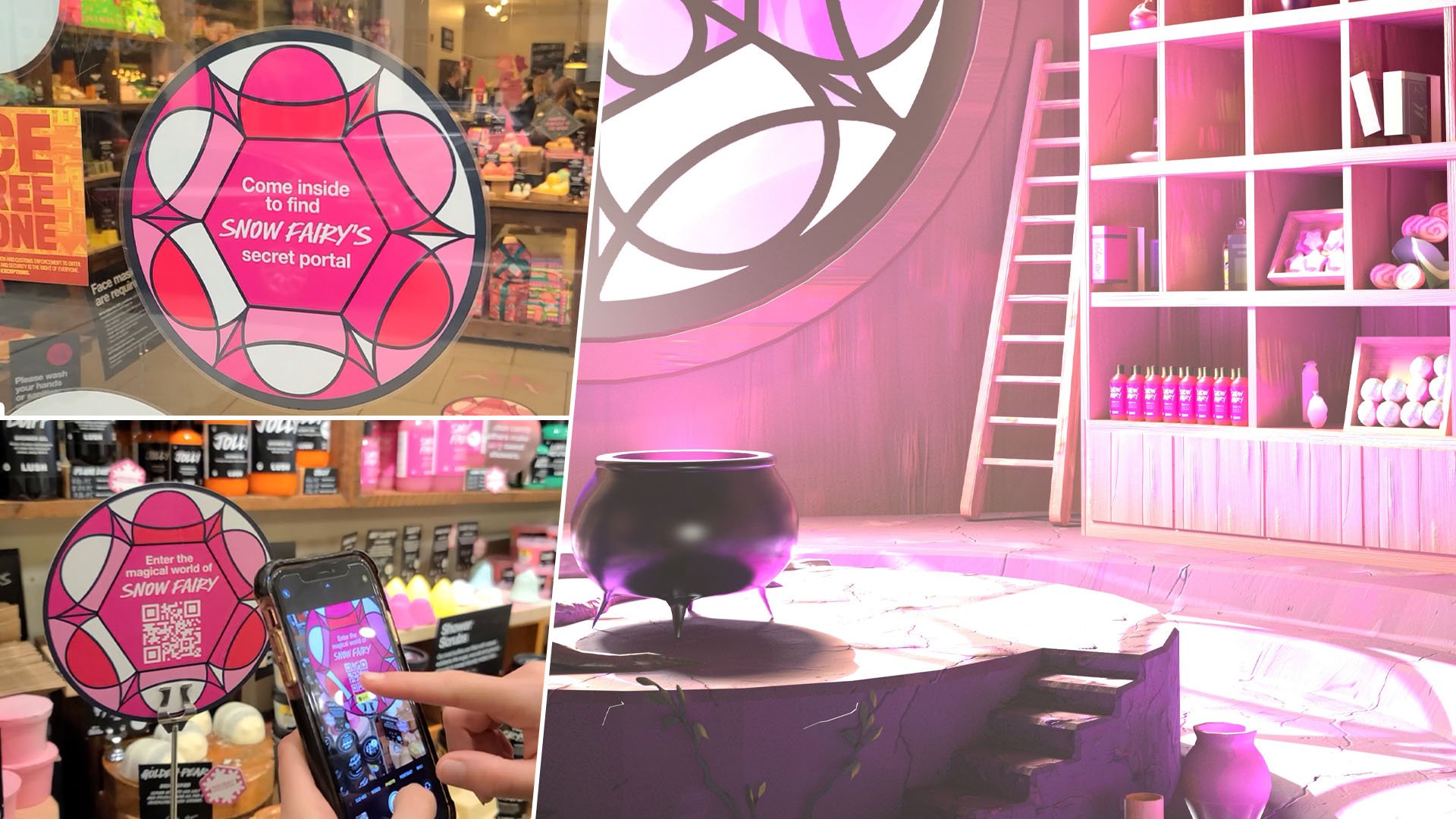 The LUSH "Snow Fairy" WebAR campaign featured three unique experiences; a personalized gifting flow; a holiday-themed face filter and a fully immersive portal environment.
Leveraging the cross-channel power of WebAR, the experience was distributed as both an in-store retail experience and across a variety of online channels. Each unique experience featured a connection to the next, delivering a fully immersive journey through snow-laden forests and into the enchanted world of the Snow Fairy.
Unwrap the magic of the holidays with L'Occitane
For the holiday season, L'Occitane en Provence offers a magical WebAR experience. By scanning a QR code on gift boxes and shopping bags, the user discovers the L'Occitane secret factory, populated by tiny characters creating L'Occitane's products and preparing a mountain of gifts.
Created by Merci-Michel, this augmented reality experience will be launched across Asia (mainly Japan and South Asia) in store.
Retail
Unlock Exclusive Mini Games and a Portal to Santa's Village With Westfield's AR Experience
Zebrar created three engaging Christmas experiences for Westfield shoppers at 42 centers across Australia and New Zealand. By scanning strategically placed QR codes at Westfield Santa Squad installations in each centre, shoppers could unlock exclusive WebAR mini games and a life-sized portal to Santa's village.
'Blizzard Squad' uses 8th Wall technology to open a virtual door to the snowy North Pole, where shoppers can explore the interactive AR portal and unfreeze the reindeer, dancing gingerbread men and bobsledding snowmen to set them free.
'Frosting Squad' is a unique Westfield mobile game where shoppers must quickly find the gingerbread men frolicking about the gingerbread-house and frost them.
Finally, 'Delivery Squad' is an engaging mobile game challenging users to ride Santa's sleigh and use a slingshot to catapult Christmas gifts into the matching colored chimneys.
Witness a Spectacle With Harrods AR Christmas Window Displays
For this year's Christmas display, Harrods worked with Visualise to create a large-scale augmented reality experience which blends their famous Christmas window displays with hyper-realistic 3D animations in WebAR.
Featuring a robot character complete with a Harrods 'H' breast plate, the robot appears as a clockwork toy, moving awkwardly in time to Swan Lake as if perched on a music box. Mid-way through the animation, the character becomes 'self-aware', removes the mechanical restraints from its feet and begins freestyle dancing in the window. As a further surprise, the robot jumps up and smashes the window with a kick mid-dance, before finishing up and collapsing back into its start position.
Read more on Retail Technology Innovation Hub.
Go on a Holiday Adventure With Afterpay's Hidden Helpers
To spread some holiday cheer, COFFEE Labs worked with Westfield and Afterpay to create an AR-activated scavenger hunt experience. Featuring five interactive AR experiences, users scan one of the QR codes found in participating Westfield locations to find fun characters and unlock awesome deals.
"When activated, the codes will prompt shoppers to scan and help find Afterpay's "Hidden Helpers" in an AR environment. Upon scanning, shoppers will be taken on an AR-based "holiday adventure" to uncover five Hidden Helpers throughout the center, which will unlock special deals and promotions at retailers that utilize Afterpay's flex payment solution."
Read more on Chain Store Age.
Moonpig Launches First Augmented Reality Experience for Christmas
To raise awareness of their full gift offering for the festive season, Moonpig partnered with Poplar Studio to create their first AR mini-game experience.
Running in parallel to their Christmas TV ads, the AR experience asks users to collect gifts that are falling from the ceiling using a Christmas sack. At the end of the game, users are able to take a photo and share it with their friends and family or on social media.
The game is part of several 'Joys of Christmas' digital experiences and exclusive offers that Moonpig has planned for the holiday season. To play the mini-game, click here.
Read more on New Digital Age.
Tourism
Go on a Holiday Themed Scavenger Hunt in Downtown Oakville
Located around Downtown Oakville, you'll find a WebAR powered Scavenger Hunt spreading Holiday cheer throughout December. Developed by Aircards and powered by 8th Wall, this unique Holiday experience has been rolled out by Oakville to encourage footfall in the downtown shopping district.
Festive shoppers can scan the QR code to activate the experience, and use the custom map function to find and capture all 8 of the Holiday themed 3D characters. For Oakville Downtown, it represented a highly innovative and fun way to incentivize families and children to explore the shopping district.
With a difficult year for retailers all around the world, leveraging immersive and contact-free technologies like WebAR is an innovative way to re-engage shoppers.
Unlock a Magical World of Christmas Delights in the City Of Melbourne
To encourage people to explore the magic of Melbourne during the Christmas period, Zebrar teamed up with Traffik Group to create three intricately designed Christmas AR experiences across three iconic Melbourne locations.
By scanning each "Elfie": Jolly, Jingle and Merry, visitors could unlock a magical world of Christmas delights via Web AR with visual design inspiration from traditional Christmas paper craft.
Visitors were wowed with each beautifully detailed experience, creating a personalized and highly memorable photo moment to share with their loved ones.
Food & Beverage
Find Your Perfect Holiday Drink With TGI Fridays Holiday Bartender Elf
To help promote their festive holiday libations, TGI Fridays enlisted innovation studio Tactic to create a 'spirited' WebAR experience right at your table.
By scanning a QR code in the menu, the TGI Fridays Holiday Bartender Elf appears from out of a cloud of smoke and confetti then showcases his best bartending flare as he mixes up a few of the restaurant's seasonal cocktail concoctions such as Clause for Celebration and the Merry Margarita. Guests get to choose which drink he shakes up and then they're able to take a snapshot of the finished cocktail with the merry elf himself and share that with friends and family.
Read more on FoodSided.