8th Wall
Blog
Bring avatars into your WebAR experiences with Ready Player Me
Developers can now easily add custom, interactive avatars to 8th Wall projects to create browser-based metaverse experiences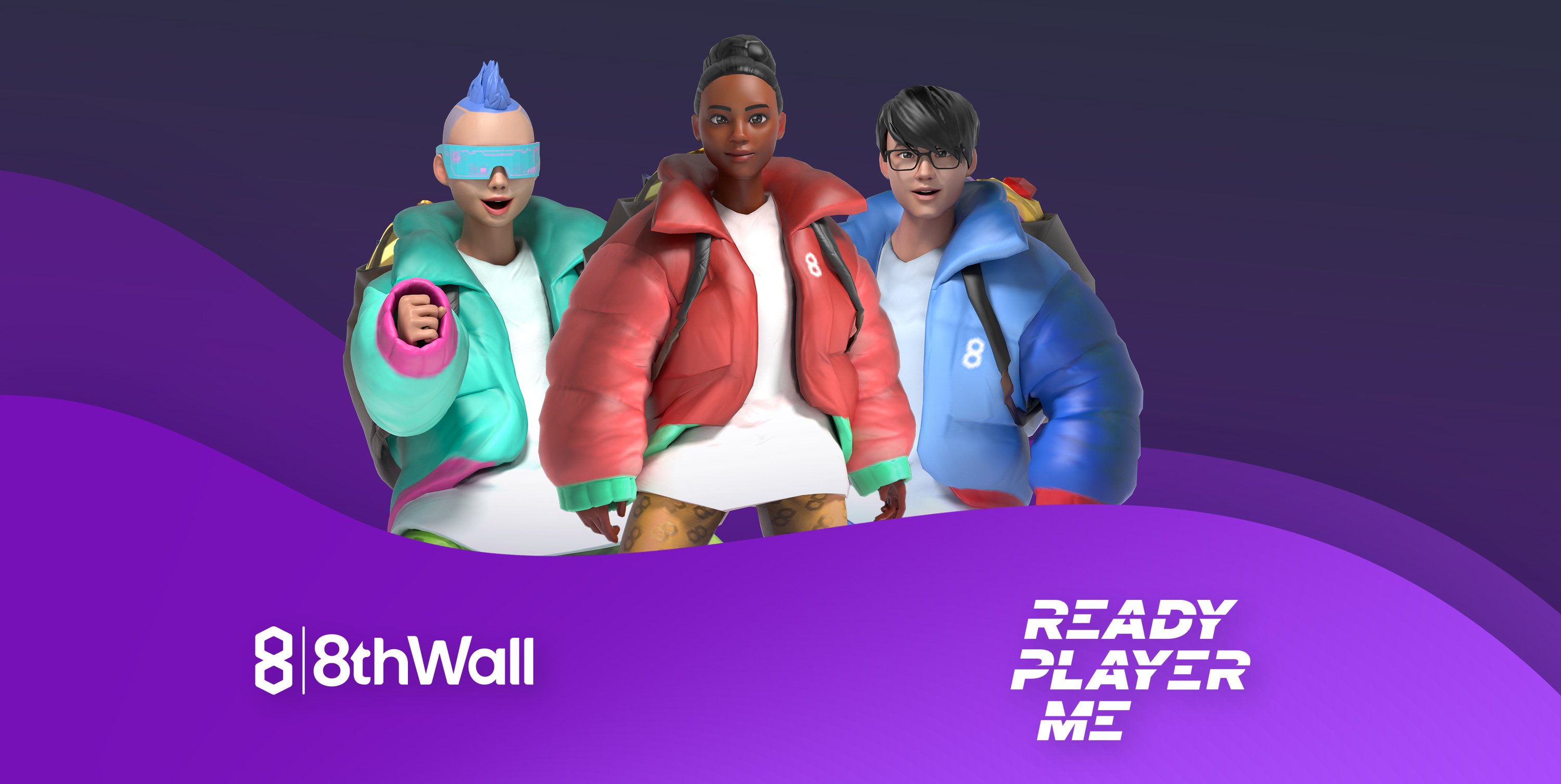 We are pleased to announce our newest integration with the cross-app avatar platform for the metaverse, Ready Player Me. This integration equips 8th Wall developers with all the tools they need to create immersive browser-based experiences with custom, interactive avatars. Avatars play a major role in the metaverse, acting as our digital identity in virtual worlds and spaces, in joining forces with Ready Player Me users will now be able to bring their avatars into 8th Wall powered experiences.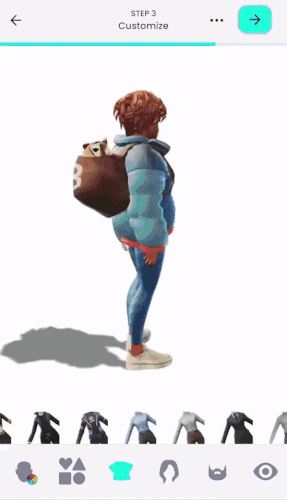 Ready Player Me acts as a passport to the metaverse by giving users one consistent digital identity across applications. Users create their 3D avatar by taking a selfie or by selecting from a variety of pre-made options. They can then customize their avatar with virtual apparel
and accessories including NFT-based assets. Users can then export their avatar directly or bring the avatars they have created into supported apps and games by logging into the Ready Player Me Hub from within the experience.
Developers can add Ready Player Me avatars to any 8th Wall project. Transform your user's face into their custom avatar's, complete with facial expressions, so that they can record a message as their character and share it across social networks. Or allow users to place, navigate and interact with their animated avatar in the real world to engage in multi-player games, virtual shopping experiences and more. As 8th Wall's Engine features Metaversal Deployment, avatars used in World Effects can also be experienced as AR on smartphones and smart glasses, 3D on computers, and VR on head-mounted displays.
Here's How To Get Started
Become a Ready Player Me Partner
Ready Player Me is available for free for all developers. Any avatar created using the Ready Player Me website is under the Creative Commons 4.0 license, allowing non-commercial use. If you're looking to integrate Ready Player Me avatars into your commercial app or game, you must become a registered Ready Player Me Partner.
As a partner you will receive your own partner subdomain; can select either a light or dark avatar creator theme; choose between full-body and half-body avatar types; and access advanced avatar configuration settings such as texture LODs, toggling hands, changing the export pose, animation blendshapes, etc. You can also work with Ready Player Me to include custom wardrobe options for your experience.
Learn more about applying to become a Ready Player Me Partner and find additional resources in the Ready Player Me documentation.
Clone the 8th Wall Ready Player Me Sample Project
Developers can quickly get started building WebAR experiences featuring Ready Player Me avatars by cloning the A-Frame: Ready Player Me project from the Project Library into your Workspace. This sample project has already integrated the Ready Player Me system with 8th Wall and contains all the logic to bring the avatar created by Ready Player Me into your WebAR experience.
For Face Effects, the sample project provides mesh anchor points which are synchronized with the Ready Player Me avatar morph targets to manipulate the face. For World Effects, developers can make use of the joystick component also added to the project to allow users to navigate the avatar in world space as well as customize the fully rigged avatar with their own animations.
Publish and Feature Your Project
Once you "Save + Build" your project in the Cloud Editor, you can preview it by scanning the QR code found at the top of the editor with your smartphone or tablet. When everything looks good, you're ready to publish using 8th Wall's included hosting. Once you've published your avatar-enabled experience, you can now add it to the growing catalog of 8th Wall experiences in the Discovery Hub. You can do this by heading to the "Feature Project" tab in your project navigation and publish it to your Public Profile.
Get Inspired with These Avatar Experiences
8th Wall developers have already demonstrated how personal and meaningful WebAR experiences can be with Ready Player Me avatars. Aircards in partnership with Yahoo Creative Studios and Ringtail Studios, developed an innovative cross-platform avatar experience for the Sci-Fi blockbuster Dune that enabled users to create their own custom 3D Dune avatars and view them in web-based augmented reality. Ready Player Me avatars were also featured within Yahoo's Electric/City immersive shopping experience where users discovered the Charli Cohen collection in this "Brandiverse" with 360-degree video and custom avatars wearing Charli Cohen garments which could be experienced in WebAR.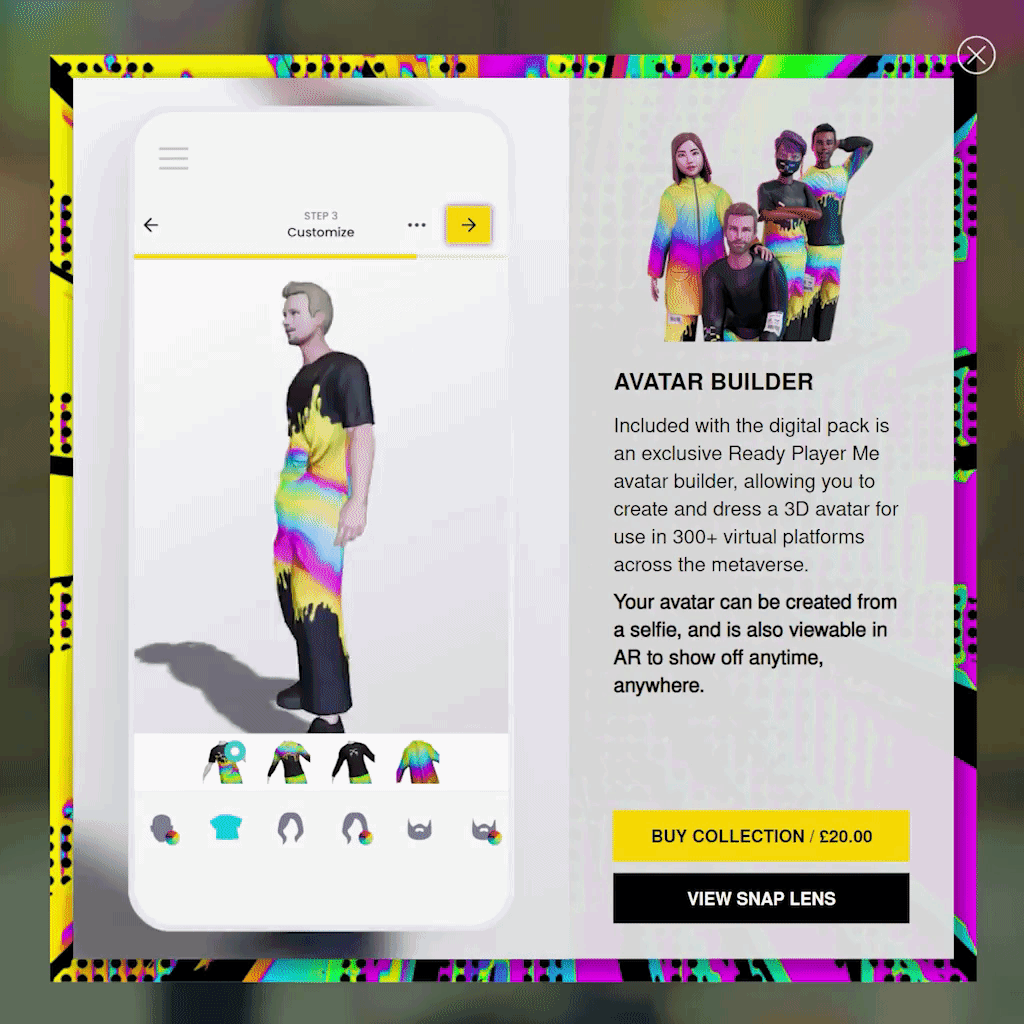 Ready Player Me avatars are also a key component in the world's first immersive cross-platform web game, Summit Scramble. Presented by 8th Wall and created in collaboration with Aircards, Summit Scramble is a multi-player game that can be played with up to four players across smartphones, desktop computers, Meta Quest and Microsoft HoloLens. Players are given the option to create a new avatar or login to use an existing one or quickly get into the game by randomly generating an avatar, this includes making use of three 8th Wall branded snow outfits made specifically for the game.
Interested in using Ready Player Me in your 8th Wall project? Reach out to Ready Player Me to request a partner space on their website. Already have a Ready Player Me partner space? Get started by cloning the A-Frame: Ready Player Me sample project from our Project Library. Try a live demo of Ready Player Me avatars in 8th Wall WebAR by using the "Try it out" button on the sample project.
This post was created in collaboration with 8th Wall partner, Ready Player Me.