8th Wall
Blog
Coca-Cola transforms USC campus vending machines into spooky phygital treat centers for Halloween
The WebAR experience is one of the first commercial projects to use Niantic's Lightship VPS for Web to anchor virtual content to the real world with centimeter-level precision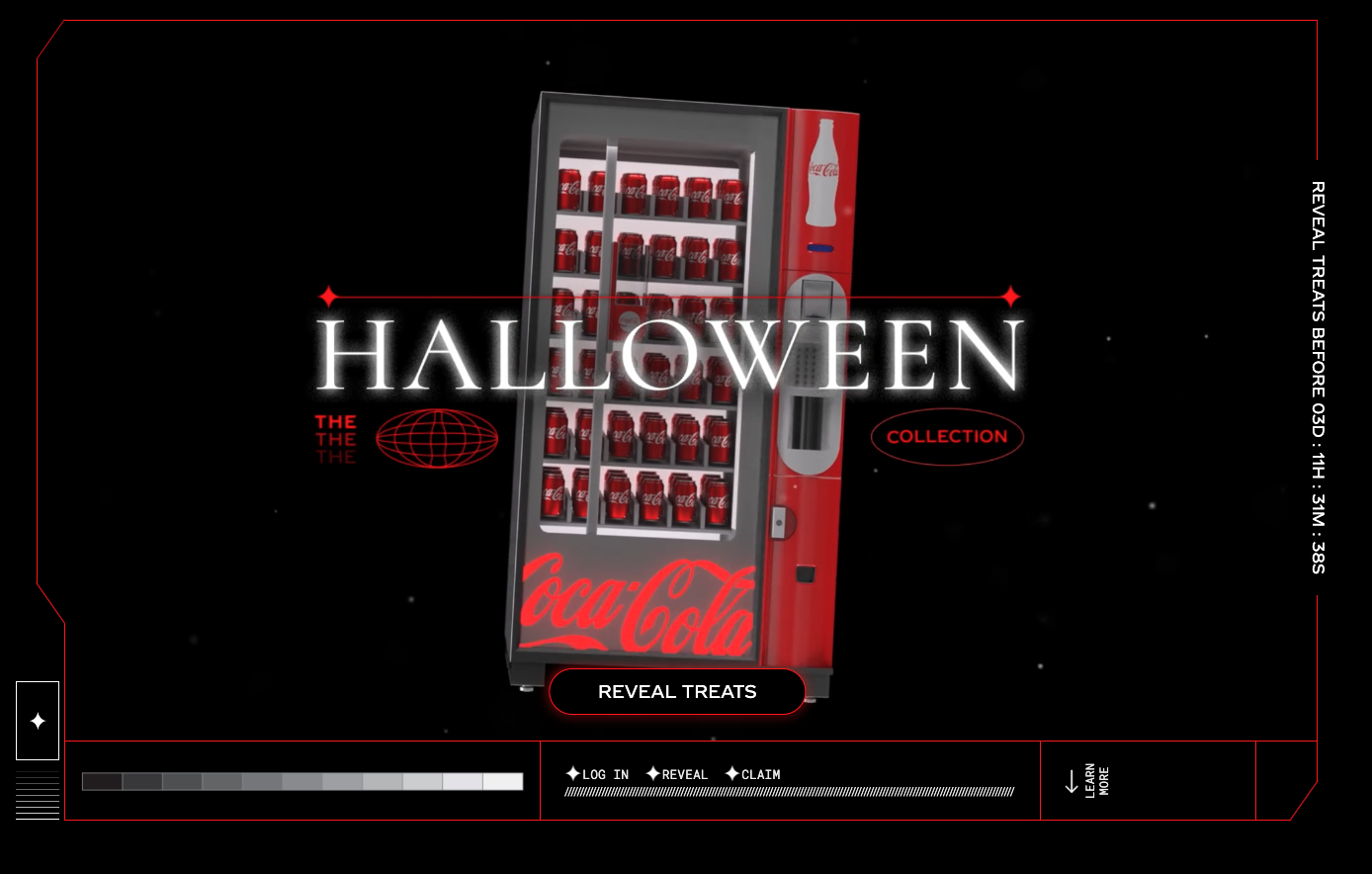 Coca-Cola is bringing Halloween into the Real-World Metaverse this holiday with an augmented reality activation on the University of Southern California (USC) campus. "The Coca-Cola Halloween Collection" is a phygital experience that transforms actual vending machines around the campus into virtual treat dispensers. This web-based experience let students fill their trick-or-treaters bags with digital and physical items found in select vending machines including AR masks, NFTs, apparel, concert tickets and more.
From October 25-27, USC students could fill their bag with treats from each of the five vending machines each day. Students found the five participating vending machines using the experience map on the Coca-Cola Halloween Collection microsite. Once they reached one of the specially marked vending machines, they activated the experience by pointing their smartphone camera at the vending machine. Once activated, students could see a digital twin of the vending machine which appeared to be in a spookier alternate reality. They could then walk around and explore the spooky vending machine, which is said to "contain real magic", before receiving their treat. Students received a treat by tapping on the hand scanner found on the front of the virtual vending machine. Once tapped, it activated the magic inside which generated a treat and added it to the students bag. The treat details were hidden and will be revealed closer to the Halloween holiday.
To see what was added to their bag, students visited the Coca-Cola Halloween Collection microsite between October 28-31 to reveal and claim the treats they received. Treats include digital AR masks, digital collectibles, physical PUMA apparel and Coachella 2023 passes. All treats need to be revealed and claimed by midnight on October 31.
This campaign is one of the first commercial experiences to use Lightship VPS for Web, the Niantic Lightship Visual Positioning System (VPS) using the 8th Wall platform. This browser-based technology connects the real world with the digital one by anchoring WebAR content to locations with unprecedented accuracy and precision. It also is the first commercial use of Niantic Lightship Maps for Web, an easily customizable 3D map which users can use to navigate to points of interest particular to an experience.
Developers can get started building their own experiences using Lightship VPS for Web and Lightship Maps for Web by cloning the Lightship VPS World Explorer project from our Project Library.