8th Wall
Blog
Get into the holiday spirit with these 10 WebAR experiences
Discover holiday experiences from McDonalds, Urban Decay, Doritos, Tissot, Jameson and more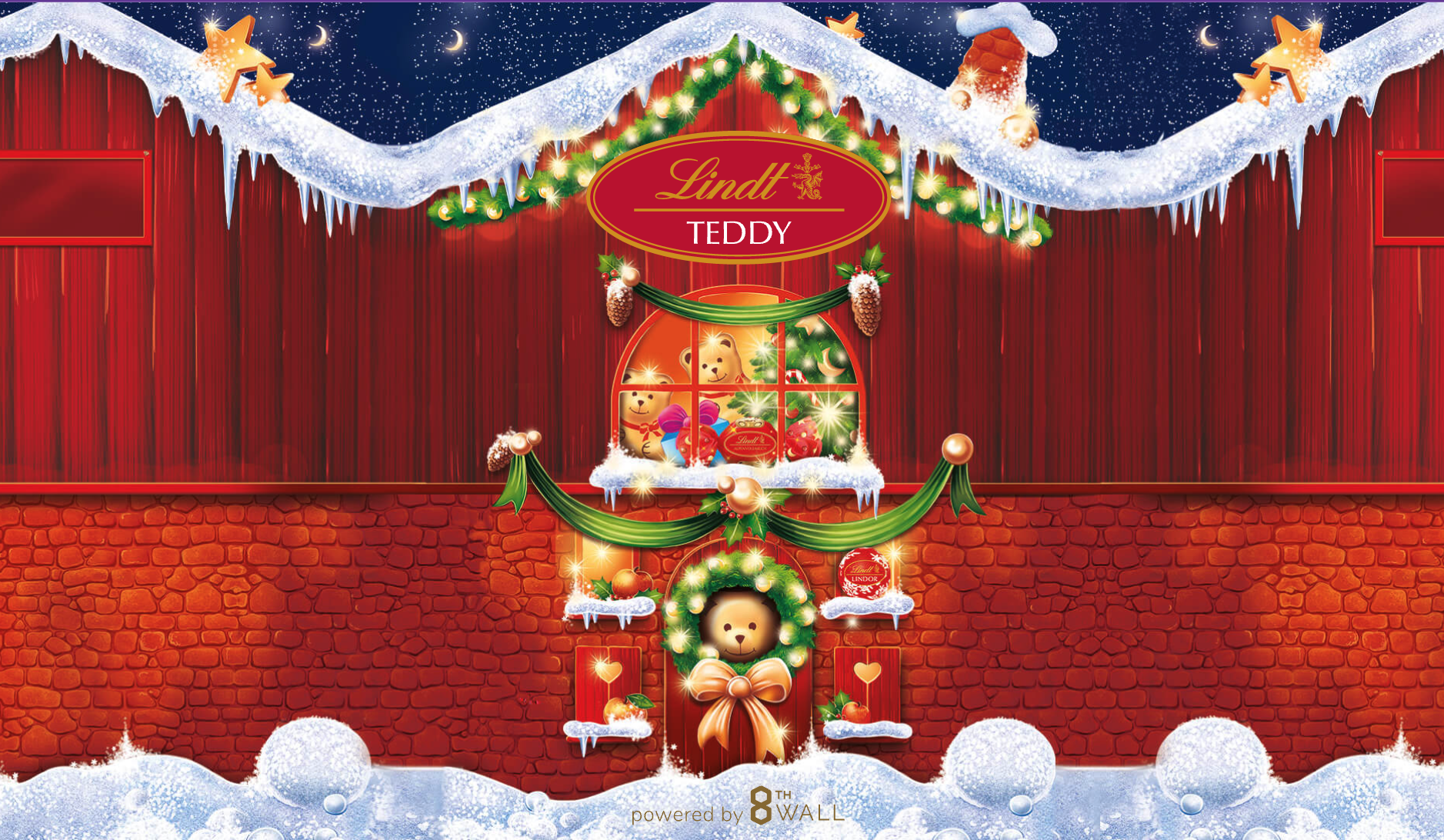 The holiday season is upon us, and what better way to get into the festive spirit than by trying out some exciting WebAR experiences powered by 8th Wall? From virtual holiday displays to holiday-themed games, there are endless possibilities for holiday fun with WebAR.
In this blog post, we've rounded up 10 WebAR experiences that are sure to get you in the holiday mood. So grab your device and get ready to have some fun with these immersive and interactive experiences.
Food & Beverage
Countdown to the holidays with the PepsiCo and Doritos WebAR advent calendar
To help countdown to the holiday season, PepsiCo and Doritos partnered with Poplar Studio to create a digital advent calendar for their customers using augmented reality (AR) technology. The calendar features 25 WebAR experiences, one for each day leading up to Christmas.
Upon opening the experience, users are presented with their Doritos advent calendar that features a surprise for each of the 25 advent days. Users are only able to open one new window each day by tapping on the corresponding day of the month. The user is then taken to one of the many different experiences: from gamified face filters to digital crackers that can be pulled to reveal jokes or special Doritos recipes. Some of the daily experiences also include offers and promo codes to be used on Amazon and eBay, where users can purchase other Doritos products and access special deals.
The advent calendar experience is accessible to all customers from their physical advent calendar via a QR code. Users can also access the campaign using a link shared in Doritos' social media marketing efforts.
This project is the result of a collaboration between Poplar Studio, VRTX Labs, 8th Wall, Adobe, Accenture, Cheetah Digital, and MAPP services.
Put your festive decorating skills to the test with McDonald's AR Christmas decorator experience
As part of this year's Christmas campaign, McDonald's UK partnered with Darabase, OMD, and Leo Burnett UK to create a Web AR experience that lets customers decorate their local restaurant and homes with virtual lights, reindeer, trees, and snowmen. The AR experience is part of the #ReindeerReady brand campaign and is promoted online, on social media, and in the McDonald's mobile app.
To use the AR experience, customers simply need to open the McDonald's mobile app and tap on the #ReindeerReady banner. They can then point their phone at their local restaurant or home to see the AR decorations come to life. Users can also take a photo of their loved ones in the festive scene and share it on social media.
This fun and interactive AR experience is a part of McDonald's UK's larger "Alternative Christmas List" initiative, which focuses on celebrating the small moments and special people in our lives that make the holiday season truly memorable.
Unwrap the magic with Lindt's TEDDY Advent Calendar
Behind the little doors of Lindt's TEDDY advent calendar, there's not only chocolate, but also a surprise in augmented reality: A Christmas tale with the Lindt TEDDY family, told in 24 episodes.
To access the WebAR experience, customers simply scan the QR code on the back of the advent calendar and point their phone at the calendar. This brings the Lindt TEDDY family to life and allows customers to watch as the story unfolds in 24 episodes. Each episode corresponds to a day of the advent calendar, so customers can open a new door each day to see the next part of the story.
The Lindt TEDDY advent calendar was created by Bandara and powered by 8th Wall. The use of 8th Wall's technology for this campaign is a great example of how brands can use Web AR to create engaging and memorable experiences for their customers.
Celebrate the holidays with Coca-Cola Freestyle's WebAR experience
To celebrate the holiday season, Coca-Cola Freestyle partnered with Flipside to create a WebAR experience that lets users turn any location into a festive winter wonderland. With the help of Niantic's 8th Wall technology, users can create their own AR holiday scene by adding snow, Christmas trees, gifts, snowmen, and even a Coca-Cola Freestyle drink.
Once users have created their scene, they can jump in and capture a social selfie, showing off their snow-covered surroundings or enjoying a refreshing Coca-Cola Freestyle drink. This fun and interactive AR experience is a great way for Coca-Cola Freestyle to connect with its customers during the holiday season.
Try it out for yourself here.
Corona Extra Brings the O'Tannenpalm commercial to life with festive AR experience
This holiday season, Corona Extra is bringing Feliz Navidad festivities directly to consumers in augmented reality with the O'Tannenpalm's Tree Lot. This immersive experience transports fans into a Corona-themed winter wonderland full of interactive AR experiences that helps infuse consumers' homes with "La Vida Más Fina" all season long.
Using their smartphone devices, users can access the O'Tannenpalm's Tree Lot WebAR experience to explore and interact with a variety of exciting holiday elements, including a surprise grand finale activated only by introducing a real bottle of Corona to the AR scene. In addition to all the festive music, lights, snow and, of course, limes, fans can audition a virtual holiday palm in their own space and enter to win a real 10-inch decorated mini-tree, delivered directly to their home via Instant Win Game/Sweepstakes. Consumers can also visit the gift shop and purchase Feliz Navidad merch directly from the O'Tannenpalm Tree Lot.
The O'Tannenpalm's Tree Lot experience is inspired by the iconic Corona Extra "O'Tannenpalm" commercial, which has run during the holiday season since 1990. Like the commercial, the virtual experience puts a refreshing spin on classic holiday traditions.
This Web AR experience was created by Rock Paper Reality in collaboration with MullenLowe and powered by 8th Wall.
Widen the Circle with Jameson's Virtual Tree game
As the holiday season approaches, Jameson is inviting people to "widen the circle" and connect with friends and loved ones in a new way with its Virtual AR Tree game.
To play the game, users simply place a Jameson virtual tree into their world and then watch and repeat the color sequences to earn as high a score as possible. Once the game has been completed, users can enter a prize draw to win a Jameson 12-day Advent Calendar, a Jameson Christmas Jumper or a Bow St. Cocktail Making Class for themselves and three friends. If the user is selected as the lucky prize winner, they then have the option to keep the gift for themselves or gift it to a friend.
Once the game has been completed, users can enter a prize draw to win a gift for themselves or a friend. The prizes on offer vary depending on where in the world the player is located, with players in Ireland able to enter a prize tier based on their score and play again to improve their chances of winning.
Created by Spark Labs and powered by 8th Wall, this WebAR experience allows Jameson customers to connect with friends and celebrate the holiday season in an engaging and interactive way
Retail
Experience the magic of gifting with Tissot's Gift of Time Factory WebAR experience
Tissot, a luxury watch brand, has launched a new virtual experience called the "Gift of Time Factory" that allows customers to customize and send a personalized gift to their loved ones.
Using their smartphones to access the experience in their mobile browser, customers can see a portal leading to the Tissot Gift of Time factory appear in front of them. On the other side, gift boxes are carried by conveyor belts under a glass roof overlooking the village of Le Locle. One of the conveyor belts passes through the portal. In front of them, users can interact with a number of levers and buttons to customize their own Tissot gift. They can choose a watch, a giftwrap, a ribbon, and then sign their gift. Once ready, they can share their virtual gift with a loved one: the gift is placed on the conveyor belt and sent to the factory for delivery.
Created by Wilkins Avenue AR and powered by 8th Wall, this experience allows Tissot to share its gifting traditions with its customers both in store and at home. As the experience is web-based and does not require an app to download, customers around the world and their loved ones are able to engage with the Tissot brand in a new and meaningful way.
Experience the Magic of Shopping with Carrefour's 3D AR Toy Display
Looking to elevate the holiday shopping experience, Carrefour worked with Many-Worlds to launch the Carrefour Juguetes 3D AR experience, that allows users to interact with over 100 animated 3D toys.
Using their smartphone or tablet device, users can place the toy of their choice in their physical space. With the ability to rotate, translate, and scale the 3D models, users can get a feel for the toys before making a purchase. Users can also capture images and record videos of the experience to share with friends and family on social media.
Created by Many-Worlds and powered by 8th Wall, this WebAR experience offers users a fun and interactive way to view toys before purchasing.
Beauty
Get into the holiday spirit with Urban Decay's 'Beamin' Up' AR game
It's the holiday season and what better way to get into the spirit than with some new makeup and a fun interactive game? Urban Decay has teamed up with LA-based artist and animator Robin Eisenberg to release a limited edition 'Naked x Robin Eisenberg' Eyeshadow Palette and a brand new AR game called 'Beamin' Up.'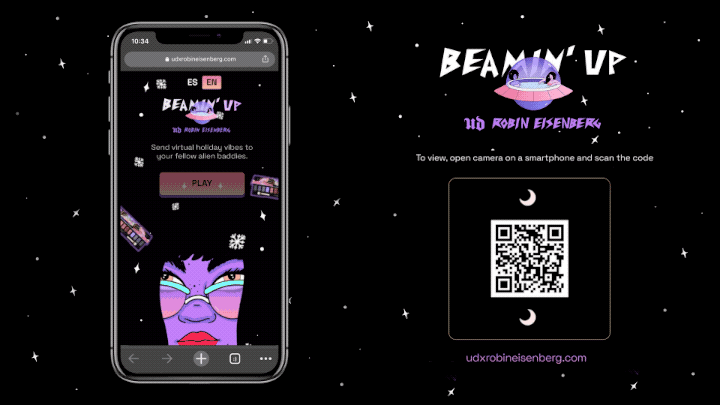 In the AR game, users can 'Aim, Beam, Power Up & Share Good Vibes' as oncoming aliens fly towards them. After playing the game, users can download personalized assets to share their 'Vibe Score' on socials using #UDRobinEisenberg.
'Beamin' Up' is Urban Decay's first interactive AR game and can be accessed at point of sale or on the packaging of the 'Naked x Robin Eisenberg Eyeshadow Palette' for customers to take home and play. The game is also available to play on Urban Decay's website at Urban Decay X Robin Eisenberg Web AR Game.
The AR game was developed by creative production partner, Tool of North America and powered by 8th Wall. The palettes are available for purchase at over 13,000 Ulta locations, over 500 Sephora locations across the United States, and on urbandecay.com as part of Urban Decay's 2022 Holiday Collection.
Lancôme brings holiday cheer with immersive WebAR experience featuring Ready Player Me avatars
This holiday season, to celebrate their collaboration with renowned artist Richard Orlinski, Lancôme launched an immersive WebAR experience that transports customers to the Lancôme AR boutique with their Ready Player Me avatar.
Using their smartphones to access the experience in their mobile browser, customers start by generating and customizing their Ready Player Me avatar. The Lancôme boutique then appears in miniature in their world space. Users can explore the three floors of the boutique by controlling their avatar, to uncover information about Lancôme's products and the brand's collaboration with Richard Orlinski. On each floor they are rewarded with promo codes they can use on the e-commerce website.
Ready Player Me avatars adds a new layer of customization to the experience, allowing the iconic French luxury brand to get closer to its customers by inviting them into its universe and providing each user with a unique experience.
The experience merges the iconic faceted style of Richard Orlinski with Lancôme's visual identity to create a memorable brand experience.
Created by Wilkins Avenue AR in partnership with Ready Player Me and powered by 8th Wall, this experience allows Lancôme to share positivity, beauty and elegance with its customers for the holiday season both in store and at home. As the experience is web-based and does not require an app to download, customers are able to engage with the Lancôme brand in a new and meaningful way.
Try it out here.