8th Wall
Blog
How brands and agencies used 8th Wall WebAR to get users into the Halloween spirit
Discover six Halloween inspired experiences leveraging the power of Lightship VPS for Web and World Effects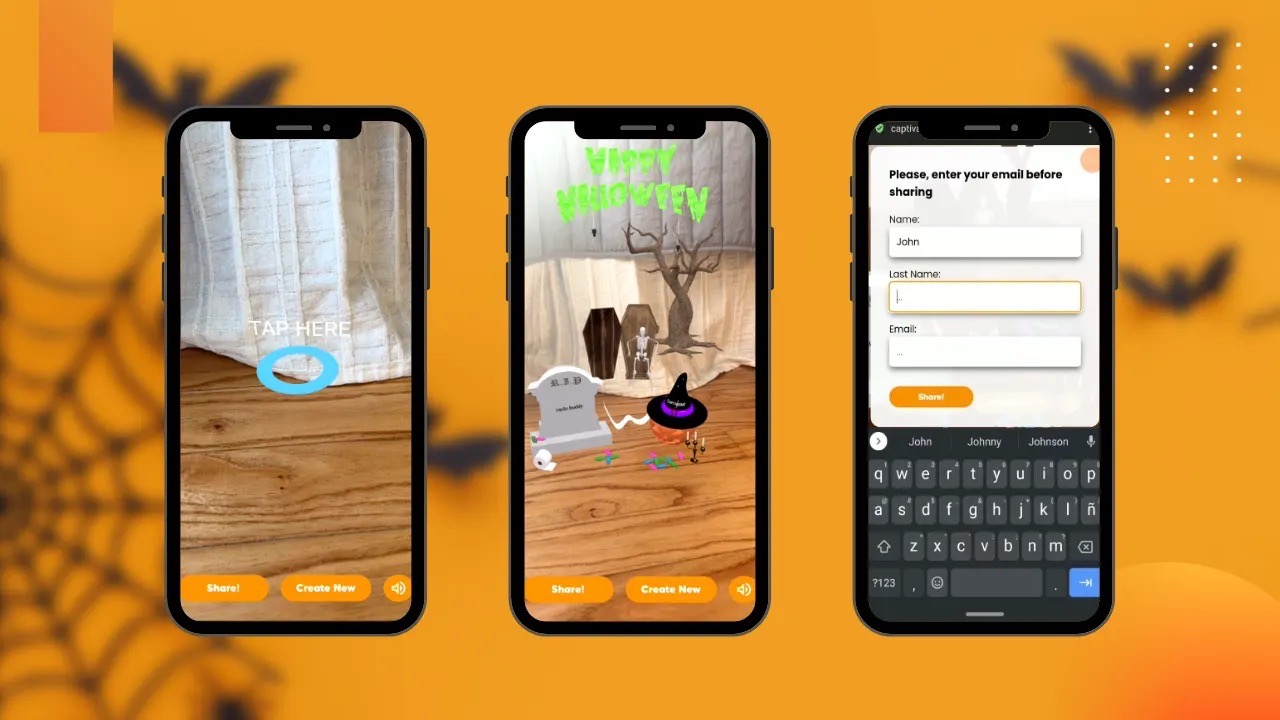 This year, brands and agencies around the world leveraged the power of 8th Wall WebAR to get users into the Halloween spirit. From multiplayer games that make use of the user's space to personalized WebAR greeting cards, augmented reality can help people celebrate the holidays in a fun and immersive way.
Lightship VPS for Web Experience
Coca-Cola transforms USC campus vending machines into a Halloween experience
Coca-Cola brought Halloween into the Real-World Metaverse this holiday with an augmented reality activation on the University of Southern California (USC) campus.
"The Coca-Cola Halloween Collection" is a phygital experience that transformed actual vending machines around the campus into virtual treat dispensers. From October 25-27, USC students could fill their trick-or-treaters bags with digital and physical items found in select vending machines including AR masks, NFTs, apparel, concert tickets and more.
Using the experience map on the Coca-Cola Halloween Collection microsite, students could unlock the experience by pointing their smartphone camera at the vending machine. Once activated, students could see a digital twin of the vending machine which appeared to be in a spookier alternate reality and tap on the hand scanner to receive their treat. To see what was added to their bag, students visited the Coca-Cola Halloween Collection microsite between October 28-31 to reveal and claim the treats they received.
This campaign is one of the first commercial experiences to use Lightship VPS for Web and also is the first commercial use of Niantic Lightship Maps for Web. To learn more about this experience, click here.
PLAYAR Studio's uses Lightship VPS for Web to transform its office into a haunted Halloween experience
PLAYAR Studio's took trick-or-treating to the next level with its haunted office WebAR experience. Leveraging Lightship VPS for Web, this AR experience allows people to visit the PLAYAR Studio office and scan the building to unlock a spooky alternative reality.
To create this seamless phygital experience, PLAYAR Studio's scanned its office in 3D via the Niantic Wayfarer app. Combining this with a 3D modeled digital twin of the building and weaving the virtual content into it, PLAYAR was able to create a haunted office experience that replaced the front door with a clown's face, added a ticket stand to the front of the building, and included shadows of spooky creatures behind the windows.
This WebAR experience leverages the 8th Wall platform to bring location based AR features to any browser on any device- no app download required. In addition, this experience allows PLAYAR to demonstrate what is possible when WebAR is connected to real-world locations.
Rock Paper Reality launches a Halloween-inspired multiplayer AR game in downtown San Diego
Just in time for the holiday season, Rock Paper Reality launched "Pumpkin Run", a Halloween-inspired WebAR game. Utilizing Lightship VPS for Web, this multiplayer AR game encourages users in downtown San Diego to explore the world around them.
To access the experience, players use their mobile devices to scan their surrounding area. Once scanned, the players release the pumpkin cats into their physical space. Once the cats are no longer in sight, users must search the nearby area as fast as they can to find all three. The first player to find all three cats wins.
Created by Rock Paper Reality and powered by 8th Wall, this WebAR experience makes use of the mesh of the scene to hide the pumpkin cats behind real-world objects. This enables the WebAR experience to feel more immersive and real to players.

World Effects Experience
Perfetti Van Melle gets customers into the Halloween spirit with its WebAR Game
To get customers into the Halloween spirit, Perfetti Van Melle launched "Meet the Creeps", a spooky-candy-filled WebAR game. Accessible via QR code on select candy packets, trick-or-treaters and candy lovers alike can immerse themselves into the Halloween Village to help make Halloween sweet again.
In this AR game, players are sent on a mission to steal all of the candy back from the creeps. By moving their phone in a 360 degree motion, users can explore the Halloween Village and interact with the three creeps - Franklyn, Candyce and Sam. By tapping on each of the creeps, players can unlock three individual mini-games where they must tap on the character to have them drop their candy. Once the candy is dropped, players must collect the candy as fast as possible to make Halloween sweet again and to get a high score. After playing each of the mini-games, users can snap a selfie with Franklyn the pumpkin and share it on their social platforms.
Created by GoSpooky in collaboration with Perfetti Van Melle and powered by 8th Wall, this WebAR experience connects the community back to Halloween in a unique way, celebrating the spookiest candy moment with one of the biggest candy brands in the world.
Send a Halloween greeting to your loved ones with CaptivatAR's WebAR experience
For Halloween this year, CaptivatAR launched an AR experience that allows users around the world to send personalized Halloween greetings to their loved ones.
For Halloween this year, CaptivatAR launched an AR experience that allows users around the world to send personalized Halloween greetings to their loved ones.
To accomplish this, users can simply scan the QR code to type out their message and place it in their physical space. Once placed, an animated AR scene appears complete with Halloween-themed music, a tombstone, a pumpkin with a branded witches hat on, a dancing skeleton and the words Happy Halloween written in bright green in the sky. The message then appears on the tombstone.
As this is meant to be shared with loved ones, users can send the message as a link for others to try out via email. Clicking on the link will then place the animated AR greeting in the recipient's world space.
Try it out here.
Get in the Halloween spirit with DeLisio Labs's Monster Mash Mayhem Web AR experience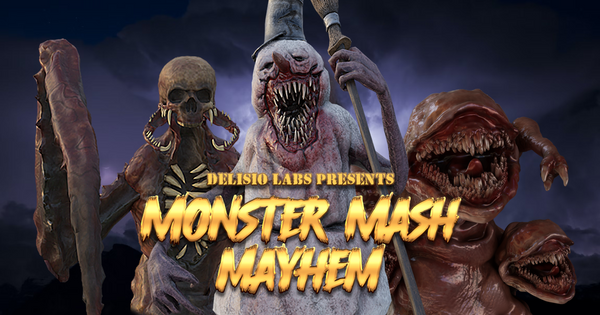 To get users into the spooky spirit, DeLisio Labs launched the Monster Mash Mayhem WebAR experience. Featuring six frightening monsters, users can place the scary creatures in their physical space, change the size of the monster and take photos all from their mobile devices.
This WebAR demo uses 8th Wall's World Effects technology to place the monsters in the user's physical space. It also uses 8th Wall's MediaRecorder functionality that allows users to capture photos of the monsters and share it on their social media channels or with their friends.
Try it out here.